by: Atif Amin TN Sports:
A large gathering of players and fans attended the ceremony. Prizes for three tournaments were distributed in the event, which included RCA 100 Ball Championship, Tera System T20 Cricket Tournament, RCA Winter Challenge Cricket Tournament. Trophies were awarded to the winning teams and the best performing players were awarded with prizes.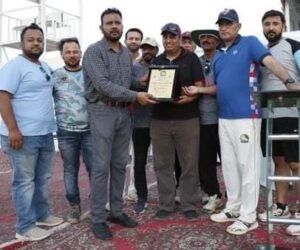 The ceremony formally started with The ceremony was officially started with the recitation of the Holy Quran Hameed. The duties of organizing the ceremony were conducted by Nasir Abbasi, Senior Vice President of RCA.
The chief guest was Mr. Faisal Al Shaghri (Director, Head of Local Real Estate Investment – Riyadh Capital). Among the distinguished guests were Mr. Marwan Kiswani (Business Development Manager Tera System KSA), Mr. Khalid Hariri, GM Mass Gulf and Mr. Sultan Al Shaghri.
Former Saudi Arabian national team Captain and CEO Riyadh Cricket Association Mr. Mohammad Nadeem Babar, Sr. Vice President Mr. Nasir Mehmood Abbasi, Vice President Mr. Aashique Hussain Mughal (Head of Engineering Riyadh Capital), General Secretary RCA Mr. Uppal Zareef, Media Coordinator RCA Mr. Atif Amin and Other Executive Committee Members of the Association were also present at the event.
Addressing the gathering Mr. Mohammad Nadeem Babar thanked the honorable guests, sponsors, RCA Management and the attendees. Talking to the media Mr. Nadeem Babar informed about the history of Riyadh Cricket Association. He said that RCA was established in 1980 under the patronage of RCA's Patron-in-Chief, Prince Dr. General Abdul Aziz bin Nasser bin Abdul Aziz Al Saud in Riyadh and It was done to organize and promote cricket activities in the central region.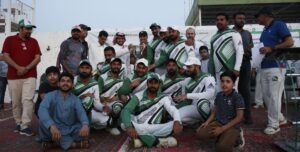 Since its inception, it has succeeded in introducing the great sport of cricket to Saudis and expatriates working in the region, which is why RCA is considered one of the pioneer associations in Saudi Arabia.
Alhamdulillah RCA is an affiliate member of Saudi Arabia Cricket Federation (SACF) and "Today we have been able to introduce RCA's junior senior cricketers, umpires and coaches at the international level with the support of Saudi Cricket Federation.
All this is the reward of the tireless work of the RCA management. Other dignitaries also addressed the media and appreciated the efforts of the Riyadh Cricket Association for the development of cricket and assured their full cooperation and hoped that the cooperation with Riyadh Cricket Association will be long-lasting.