BY: Syed Mussarat Khalil.
Saudi Media person & Businesswoman Sameera Aziz received the Extra Ordinary Performance Award for Career & Life from Indian IPS officer & well-known Motivational speaker Qaiser Khalid on 13 May 2023 at Maxx Arabia Award Ceremony in Kempinski Al Othman Hotel, Al Khobar KSA.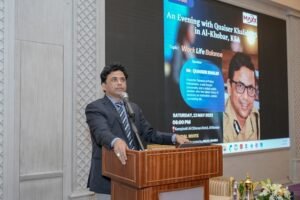 Sameera Aziz is a progressive female Saudi Media personality with 22 Years of media experience aligning with Vision 2030. She has inspired the young generation to work on targeted goals to achieve desired success. This event combined multiple activities, which created Inspiration, Motivation and Knowledge.
An eminent motivational speaker, prominent poet and senior Indian IPS officer Qaiser Khalid, Inspector General of Police Maharashtra, also delivered a lecture on "Work-Life Balance" at the Award Ceremony.
The event was organized by senior students of Jamia Millia Islamia Dammam Chapter and Saudi National Youth entrepreneurs, as well as the most prominent personalities from educational and business sectors also joined the event. The event had great value addition to youth and entrepreneurs to get support to achieve their goals.
There was an appreciation and award ceremony for the most successful personalities from different parts of the nation who have achieved great success in their relevant business activities while working in the Kingdom of Saudi Arabia.