by: TN Media News:
On 13th December 2022, Mr. Khalid Taimur Akram, Executive Director of, the Pakistan Research Center for a Community with Shared Future (PRCCSF) visited KAZGUU University, Astana, Kazakhstan. He was received by Mr. Sergey Pen, Pro-Rector of KAZGUU University, Astana.
Mr. Khalid also toured the campus and visited the department of Social Sciences and International Relations. He met with the faculty members of the university where he was briefed about the media and journalism studies of the department. Mr. Khalid Taimur appreciated the role of all faculty members and department in providing leading academic knowledge to the students in the fields of Journalism, media, and International Relations.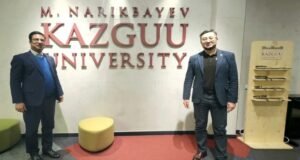 He also highlighted the importance of media and journalism in today's time, mainly to build an understanding of different cultures and countries. Both sides also discussed the prospects for mutual cooperation in enhancing academic collaboration between Kazakhstan and Pakistan.
Mr. Khalid Taimur affirmed his support for arranging joint activities for the young scholars of both states in various fields. He also met the students of the department and interacted with them while discussing various topics. He also discussed in detail future activities and joint ventures.