Article By: Irum Fawad TN Media.
Greetings!  On behalf of Dawood Global Foundation, please see attached the official press release for the 7th LADIESFUND Sustainability Luncheon that was held at British Deputy High Commission Karachi.
Karachi:  Dawood Global Foundation held the 7th LADIESFUND Sustainability Luncheon at British Deputy High Commission Karachi where corporates and businesses were awarded for their commitment to UNSDG and women businesses trained in aligning with UNSDG, with trainers and speakers from UNIDO and UNDP including Peter Hurst from the UK, Qasar Wasique Ahmad from UNIDO Pakistan, and Rida Amjad Mirza and Hameeda Kaleem from UNDP.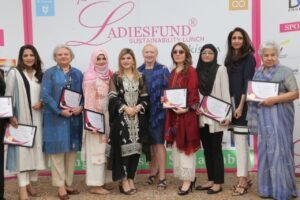 Some businesses awarded include National Foods, HOM, EY, Glow & Lovely, and Toni & Guy, and training was done for women professionals, SMEs, home chefs, and a handful of rural women.  10 LADIESFUND Women of Inspiration 2023 were also awarded and then mentored the guests.  These women included Nargis Rehman, Sharmila Farooqui, Shaniera Akram, Dr. Ishrat Lindblad, Naz Khan, Hena Sadeq, Nighat Misbah, Dr. Mahnaz Shah, Niilofur Farrukh and Frieha Altaf.
LADIESFUND President Tara Uzra Dawood welcomed guests, saying, "LADIESFUND stands for women with economic power and voice and of course, impact and today we take that a step further strengthening that to sustainability and aligning women businesses and acknowledging corporates who are committed to the United Nations Sustainable Development Goals and in particular:  UNSG Goal 5: Gender Equality."
She said, "It has been forecasted that Pakistan will be one of the worst-affected countries due to climate change. We as a nation have been receptive to the UNSD Goals and have achieved several global expectations, with the support of our female population, which is nearly 50%!" British Deputy High Commissioner Sarah Mooney then welcomed guests and spoke about how when she was a young girl, she was expected in school to learn how to iron a man's shirt and she protected. She changed her school requirements and went on to be an incredible leader in her own right.  "I wish you all a great afternoon and look forward to welcoming you all next year," she said.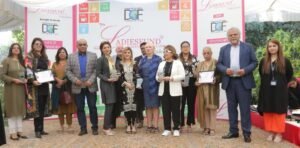 This is the 7th January lunch of LADIESFUND"s at the BDHC. Peter Hurst, the UNIDO Global expert and British Citizen, who arrived on the redeye, then gave a keynote speech, "Excited to speak at this very exciting LADIESFUND programme connecting to the UN Sustainable Development Goals. Women empowerment and women equity we are very focused on in the Sindh province."  Hurst went on to meet with, train and mentor various women SMEs at this event. Hurst was joined by Qasar Wasique Ahmad who has been with UNIDO since 2013. He met with and helped train various women professionals and entrepreneurs at this event.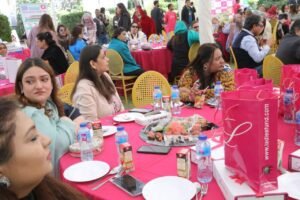 UNDP gender experts Rida Amjad Mirza and Hameeda Kaleem then proceeded to do a training on UNSDG. They thereafter mentored women professional and entrepreneur tables. LADIESFUND UNSDG Specialist trainer Xenab F. Ansari took the attendees through the 17 goals as well as a detailed step-by-step plan of action.  Her entire 2 day's training was abridged for this lunch purpose but gave an overall flavour.
Also present were Huma Khalid from IFC, Hira Wajahat Khan from Stimulus consultancy for the World Bank, as well Closing Remarks were by British Deputy Head of Mission Martin Dawson for whom this was his third LADIESFUND event.  Nabila Bano did an outstanding rendition of both the Pakistan and British National Anthems at the start of the event and Ambreen Ali was the Compere.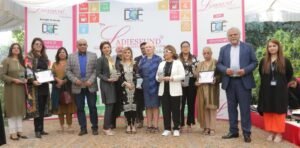 Gold Sponsor Habib Oil Mills CEO Moid ul Hasan congratulated the LADIESFUND for another great event, saying, "We have been supporters for LADIESFUND for the last 13 years, including this annual lunch at the British." Gold Sponsor National Foods' Asma Ahmad, Head of Culture & Sustainability, said, "Thank you so much for being gracious hosts on Saturday at the LadiesFund Sustainability Luncheon. And congratulations on the wonderful turnout. I must appreciate your efforts in organizing talks by Peter Hurst from UNIDO and Rida Amjad from UNDP – both spoke about the very relevant topics of female education, climate, and food security and delivered their talks impeccably. Also meeting the panel of home chefs was inspiring!"
In the audience, there were 210 guests including Huma Khalid from IFC, Hira Wajahat Khan from Stimulus consultancy for the World Bank, Zeba Bakhtiar, Shamaeel Ansari, Dr. Huma Baqai, Jehan Ara, Nighat Misbah, Naureen Hyatt, et al. Other awardees included Mobitising, Bombay Light House, Roots Millenium School, The Advisory,  HBL Asset Management, EY, Bombay Light House, Sam International and Womenpreneur.  Other supporters of the event included Depilex, Enchante Silver, White Biryani, Hanif Rajput, Nestle, Salad Tox, Igloo, Cups N Cakes, Bakers Inn, Oriental Cake, Warm Delights, Herbamed, Delicacy, Sam Bakes, Maccaroon.
The funds generated from this event will be utilized towards the charitable efforts of DGF for women's advancement with the intended focus on Educate a Girl training.
ENDS: Contact: Press Department, British Deputy High Commission. Tel. +92 (21) 3 582 7354
About LADIESFUND® LADIESFUND is Pakistan's leading platform for urban women professionals and SME entrepreneurs with over 12,000 in its network. DGF and BDHC previously held six January lunches together.
Four shots are attached. A dropbox of a red carpet and other pictures is available at: Hashtags for the event were   #LFBritish #ladiesfund @ladiesfundofficial #LFUNSG #LFSustainability #InvestInYourself For any further press or publicity queries, or anything you may need, please don't hesitate to contact me via e-mail or on the number provided in the signature below.
We thank you for your support and consideration. To view LADIESFUND's social media accounts, visit: Facebook: https://www.facebook.com/ladiesfund/ Instagram: https://www.instagram.com/ladiesfundofficialTwitter: https://twitter.com/ladiesfund?lang=en  Website: http://www.ladiesfund.com/  Please send us to tear sheets so we can thank you properly and archive permanently on our website and Facebook.
With warm regards,
Ammad Siddiqui | Buzz Planner
Talk of the Town PR, G3, Ground Floor, BRR Tower, Hassan Ali Street, off I I. Chundrigrar Road Karachi, Pakistan 74000, Office: +922132603751-4 ext 116  | Cell:  +923002364139Website: www.tudpr.com