by: TN Media News
On 20th January 2023, Mr. Khalid Taimur Akram, Executive Director, PRCCSF participated in the Seminar on The National Will and Determination of Azerbaijani People – Commemorating January 20, 1990" organized by the Embassy of Azerbaijan to Pakistan, Islamabad. The welcome address was made by Ambassador Syed Abrar Hussain, Vice Chairman, of the Institute of Policy Studies.  H.E Khazar Farhadov, Ambassador of Azerbaijan said that the Azerbaijani people have faced discrimination and massacres by the Armenians. He also discussed the liberation of Shusha from the occupation of Armenia.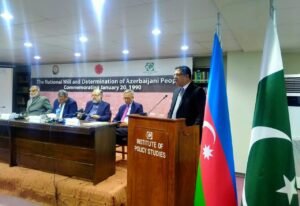 He expressed solidarity and honour for the sacrifices of those who lost their lives in the struggle for independence. He paid tribute to all those who sacrifice their lives for the integrity, and determination of Azerbaijan. He thanked the participants for attending the event and sharing deep respect for the Azerbaijani people.
Mr. Khalid Taimur Akram, ED, PRCCSF shared his views on '' The National Will and Determination of Azerbaijani people Commemorating 20th January''.  He appreciated the inclusive developments & regional connectivity made by the government of Azerbaijan after the deadliest Karabagh conflict. He thanked the Azerbaijan President for developing strong ties between Pakistan and Azerbaijan. He discussed Azerbaijan's achievements in the last two years.
Other speakers of the session were as follows:
Dr. Tughral Yamin, Senior Research Fellow, IPS
Khalid Rehman, Institute of Policy Studies