by: TN Media News:
Officials of the Pakistani Executive Forum have met the Ambassador of Pakistan (Ahmad Farooq) in the capital of Saudi Arabia, Riyadh, in which various trade issues were discussed.
Ambassador of Pakistan, Ahmad Farooq said that the market of Saudi Arabia is very big and through this forum, they can benefit a lot in the construction and material sector including the IT sector. The Embassy of Pakistan will continue its cooperation with Pakistani Executive Forum at all levels to provide all facilities and opportunities to the business community from around the world including Pakistan. We should unite and play our part for the economy of Pakistan and be able to compete with our competitors in the international market.
The President of Pakistani Executive Forum, Munir Ahmed Shad, while giving a briefing about the Executive Forum, said that many multinational companies are getting benefits by investing in Pakistan, similarly, Pakistani overseers should also invest in various sectors. In addition, he said that Pakistani executive forum is working in various sectors in Saudi Arabia and is also providing employment to unemployed people.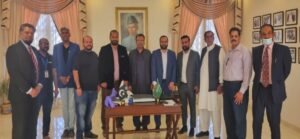 In the meeting, honorary shields were also given to the Ambassador of Pakistan by the Forum.
https://tnmn.tv/