BY: TN Media News Lahore Pakistan:
Health education in Pakistan falls short of meeting current challenges faced by the communities. Dr. Javed Nazir, a pain management expert who has just returned from the USA said this in a meeting with Lahore Leads University officials.
He said there is a substantial variation in public health academic programs in terms of offered courses, credit hours, number of faculty and tuition costs.
Dr. Javed Nazir said that about 70% of public health degree programs in Pakistan are with no specific concentration track and only 18% offered practicums. He offered his service for developing academic linkage with institutions in the USA.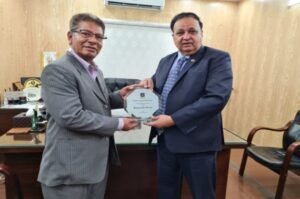 Dr. Javed Nazir said that collaboration with American Institutions students in Pakistan will improve practical public health skills, and knowledge of the latest theoretical principles, improve communication skills and increase IT orientation.
Vice Chancellor Dr. Nadeem Bhatti presented university souvenirs.