THE SECOND PHASE OF THE NATIONAL PD T20 CRICKET CHAMPIONSHIP WILL BEGIN ON DECEMBER 13 AT THE RASHID LATIF ACADEMY IN KARACHI. TEAMS FROM BAHAWALPUR, MULTAN, QUETTA AND KARACHI WILL COMPETE IN THE LEAGUE MATCHES. BAHAWALPUR WILL DEFEND ITS TITLE.
by: Muhammad Nizam Karachi (Sports Reporter):
In the second phase of the National Physical Disability T20 Cricket Championship 2022, Group A-League matches will be played on December 13, 14 and 15 at Rashid Latif Cricket Academy Ground, Gulberg.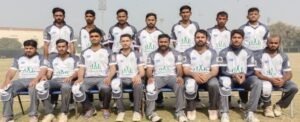 Under the management of the Pakistan Physical Disability Cricket Association and with the cooperation of ICRC, Shahid Afridi Foundation and Pakistan Cricket Board, in the second phase of the National Physical Disability T20 Crickety Championship 2022 in Group "A" league match Teams from Bhawalpur, Multan, Quetta and Karachi will compete at the RLCA ground.
According to the announcement of PPDCA General Secretary and Tournament Director Amiruddin Ansari, Karachi will meet title defender Bhawaur in the first match on Tuesday, December 13 at 9:30 am, while Multan will face Quetta at 2:00 pm. On Wednesday, December 14, Bhawalpur will face Quetta at 9:30 a.m., while Multan will face Karachi at 2:00 pm. On Thursday, December 15, at 9:30 a.m., the Multan team will meet Bhawalpur. at the same time, Karachi will face Quetta at 2:00 pm.
The Group "B" matches will be held in Islamabad which will be announced later. Regional Head Bhawalpur and Multan Jameel Kamran said that the Bhawalpur team is determined to defend the honour with high morale. At the same time, the 3-time former champion Multan is eager to win the title once again. Balochistan, Peshawar and Lahore, Sialkot regional head Aslam Breach, Sajid Shah, Javed Ashraf and Karachi coach Haris Ayaz are also hopeful for the success of their respective teams.