The Meeting of the FPCCI Women Central Standing Committee on Women Style, Beauty & Skincare was held recently at FPCCl ( Federation of Pakistan Chambers of Commerce & Industry) Head Office Karachi & via Zoom link, Convened by Ms. Zehra Zahid. Various matters were discussed such as; suggestions for cancerous notes on creams containing carcinogenic ingredients, enforcement of the maternity benefit Act 2018 and exploring resources that can generate funding to support underprivileged women programs. Members of the Committee attended the meeting. The guest of Honour was Shafiq Achakzai and he commended and supported all efforts.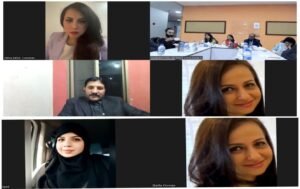 The members of the committee are ( proposed Deputy Convener Nighat Mehmood) anchor Mona Khan, Saeed Ahmed Saeed, Ahmad Kamal, H. H Miran Haidar, Shehla Khowaja, Maimoona Khurram, Syed Afnan Waqar, Dr. Eman Waqar, Rahila Ahmed, Syed Faraz, Aiman Afaque, Azra Zahid & Farah Zahid
Dr. Eeman had previously spoken about the hazardous ingredients in creams and the types of allergies caused. A 2018 report by the SDPI, Ministry of Climate Change Islamabad Found that of the creams tested which included local and imported products, only three had the minimum mercury quantity whereas other creams had an alarming amount of mercury as well as other carcinogens, lead, aluminium in ingredients. Even Kajals are full of lead. These get absorbed by the skin which leads to many diseases. Pakistan's quality control needs to keep more checks in this regard.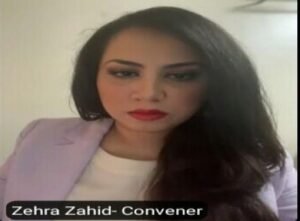 Memoona said according to a survey 80%out of 100% of women in Pakistan leave jobs because they cannot handle the pressure from raising kids and having jobs, from this 80%, only 20% of husbands said they asked their wives to leave but the rest of the women left themselves because there was no daycare for kids. Although in 2018 a bill was passed, the 'Maternity Benefit Act 2018 'which gives the rights But it is not implemented everywhere and this is a big issue of women leaving the workforce and being unable to continue their careers.
Various resources were explored that can generate funding to support underprivileged women programs that were started by the committee convener. The Convener of the Committee Zehra Zahid highlighted all these issues, brought them together and aims at trying to find action plans in all directions and hopes to be as successful as in the previous years.