by: Dr. SAYED ZIAUDDIN JEDDAH:
FTL-CCT Tourney began with fun frolics here at the WPCA Arena with 6 matches took place in the Afternoon Session. The Grounds were in immaculate conditions after the Rain havoc last month as the teams enjoyed the fast outfield and batters just relish the taste of the ball running towards the boundary with fielders just grinning and fruitlessly running behind the ball not stopping but bringing back outside the rope. Marine Services downed Silver Hawks in their opening match, Nesma Airlines had the last laugh against Young Strikers, Abudawood Trading prevailed over Tuskers, IDB Group thrashed Al Kabbani Cricket Group, Karachi Warriors successfully chased the huge target against KKR and Hyderabad Sharks had the better of Fuchs Al Hamrani.
The MINI tournament sponsored by FTL was heartily welcomed by one and all and especially the Cash awards for all the FTL CCT matches including Pool matches and Knock out stage matches. Everyone was talking about the kind gesture shown by the FTL sponsor to improve and develop the game by giving encouragement to the budding Players as this will boost the energized Players to perform best to get the Rewards which is highly appreciable.
The Man of the match awards were distributed after the matches to the applause of the gathered crowd. WPCA thanked FTL for their contribution in the development of the game and for sponsoring the event.
Match # 1: Silver Hawks decided to bat first against Marine Services after winning the toss to get to 159 for 7. Marine Services in chase achieved 162 for 6 in 105 balls to win by 4 wkts with 3 balls to spare. Silver Hawks with Shafaqat blasting 96 in 58 balls with 2 sixes and 11 fours as he was unlucky to miss the three-figure mark by a whisker to get to 159 as none other from their ranks could contribute much. Tariq, Tariq Saeed and Akram grabbed 2 scalps each.
Marine Services in the chase had Mohammed Akram in great form to hammer an unbeaten 101 in 59 balls studded with 1 six and 11 fours as he stitched 52 in 29 balls for the openings stand, however, the Story of Marine Services tale was not different from their opponents as none another batter could contribute meaningfully. Ali took 2 wickets.
Match # 2: Fuchs Al Hamrani opting to use the track first against Hyderabad Sharks managed 163 for 8. Hyderabad Sharks then successfully chased the winning target of 164 for 3 in 92 balls to win by 7 wkts with 28 balls to spare. Fuchs Al Hamrani after initial setbacks at 9 for 2 had Majid Khan rescuing with 48 balls 85 with 6 sixes and 9 ours as he stitched 85 runs for the 3rd wkt. Earlier Irfan Anjum made 33. Roni Pervez scalped 3-27 and Mazhar Hussain.
Hyderabad Sharks in chase reached the victory target of 164 for 3 in 92 balls as Mohammed Shehzad hit 34 and added 87 in 43 balls for the first wkt with Mohammed Usman who made 48 in 26 balls. After the departure of both, the openers in the 8th over Atif gill scored 50 in 24 balls and added 62 in 40 balls for the 3rd wkt to get to the victory in style. Ibrahim Mirza claimed 2 wkts.
Match # 3: Nesma Airlines batting first against Young strikers piled up 186 for 6 and restricted opponents to 169 for 9 to win by 17 runs. Khawar Zafar smashed 64 in 33 balls as he added 76 in 36 balls for the 2nd wkt with Saidul Islam who made 50 in 24 balls after Fahad departed early in the 3rd over. A. Jabbar made 21. Tariq Siddiqui took 3-32.
Young Strikers chasing more than 10 runs per over fell short by 17 runs to lose as Tariq Siddiqui hit 46 in 24 balls, Afzaal 37 and Abid 25 not out. Ahsan bowled well for his 3-33 and Jabbar's 2.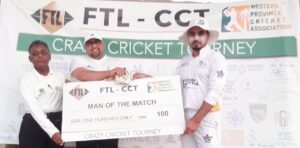 Match # 4: Tuskers won the toss against Abudawood to bat first to get to 167 for 6 whereas Abudawood in chase achieved the winning target of 169 for 3 in 89 balls to win by 7 wkts with 31 balls to remain. Skipper Yashik batted magnificently for his 85 off 46 balls with 17 boundaries as none from the top order supported him except for middle order Badushah making 34. Adnan Dani took 2 wkts.
Abu Dawood Trading chasing 169 reached in 89 balls with 7 wkts remaining as after the openers departed early at 37 for 2, Atif hit an unbeaten 40 in 20 balls to add first 83 in 43 balls with Bilal (42 in 32) and then 49 for the unbroken 4th wkt with amir Gujjar who made unbeaten 32.
Match # 5: IDB Group opting to bat first against Al Kabbani Cricket group amassed 202 for 5 and then bowled out opponents for 140 for 9 to win by big 62 runs. Mazhar of IDB Group belted 85 in 40 balls with 14 fours and 2 sixes as he added 61 in 29 balls for the 3rd wkt with Nasir (27). Later Abid Ali made an unbeaten 28 and Arsalan 23 not out. Ali Reza and Anwar Ali shared 2 scalps each.
Al Kabbani Cricket Group chasing a huge target could manage 140 for 9 to lose by 62 runs. Ali Raza scored 37 and Abdullah Bhatti 28. Two pieces each were taken by Abdullah Shah, Qasim, Nasir and Waqas.
Match # 6: KKR deciding to bat first against Karachi Warriors plundered 200. Karachi Warriors then scored the victory target of 203 for 5 in 103 balls to win by 5 wkts with 5 balls to remain. Jaleel of KKR hit 42 in 14 balls as he added 53 in 18 balls for the first wkt with Shafeer (23). Jaseem then stroked 38 to stitch 50 in 26 balls with Haris making 30 to get to a huge tally. Abdul Kareem claimed 3-18, Adnan 3-41 and Gafoor 2.
Karachi Warriors in chasing reached the victory target of 203 for 5 in 103 balls to win by 5 wkts. Muneeb Anwar hammered 41 in just 14 balls as he added 70 in 24 balls for the first wkt with Rehan who made 56 in 24 balls. Later Sufiyan stroked 52 in 31 balls and Ali Mudassir 20 to achieve the victory by chasing a 200 +score. Haris grabbed 3-44.