By. Dr. SAYED ZIAUDDIN JEDDAH:
THE FTL CCT tourney sponsored by "FTL" thanks to Nadeem Saad began this Morning here at WPCA Waziriyah Grounds with Fours and Sixes as Fielders had a hard time in the middle to stop the ball racing towards the Boundary. The grounds were in immaculate condition with Mountains of Runs coming in pleasant weather on Friday Morning. Super CC downed Potohar, Apex prevailed over TMCC, Landmark Arabians defeated NNG, Siddique Xi had the last laugh against Bupa Arabians, Al Saudi XI thrashed Warraich Gujarat XI, MM Group won against SAS System Engg., Sunbonn Sultans got the better of Sialkot Shaheen and Nadeem XI defeated Arcoma in the Morning hostilities as Evieum declared the winner against Makkah Kings on Technical Ground.
After the matches, Man of the match Cash awards as promised earlier was distributed by the FTL officials in the presence of WPCA Officials. Earlier prior to the kick of the tourney, FTL announced the Man of the match awards in every match including the pool matches and Knock out matches. The teams have welcomed this move as this grand step will encourage the players to give their best and win the Cash Prize. WPCA officials also thanked the FTL for their kind gesture to improve and develop the game.
Match # 1: Super CC batting first amassed 209 for 3 then restricted Potohar to 129 to win by 80 runs. Yasar K made 40 as he added 56 with Farhan. Jibran remained unbeaten on 51 off 36 balls as he first added 94 in 57 balls for the 3rd wkt with Raqeeb who made 56 in 28 balls as Yasar Iqbal remained unbeaten on 28. Mukhtar took 2 wkts.
Potohar in reply was bowled out for 129 to lose by 80 runs. Bader made 30, Masood 28 and Zeeshan 24. Arfan, Farhan and Yasar Iqbal took 2 wkts each.Raqeeb of Super CC clinched the man of the match against Potohar for his 56 in 28 balls.
Match #2: Apex Freight batted first to plunder 219 for 3 and then restricted TMCC to 139 to win by 80 runs. Riasat was the top scorer with an unbeaten 89 in 51 balls as he added 62 with Mohammed Suleman (44) and then 85 in 49 balls for the 2nd wkt and lastly 62 in 27 balls for the 3rd wkt.
Transparent Mask in response was restricted to 139 as Gulam Ghouse made 35 as he added 63 with Altaf Hussain who made 55 in 37 balls. Sardar took 2 wkts. Riyasat of Apex Freight bagged the Man of the match for his 89 in 51 balls and one scalp against Transparent Mask CC.
Match # 3: NNG used the track first against Landmark Arabia to score 130 for 9 and then Landmark reached the winning target of 135 for no loss in 72 balls to win by all 10 wkts. Shahzad was at the top with 44 and Salahuddin with 20. Two scalps each were taken by Sarfaraz, Siyam and Jaleel.
Landmark Arabia achieved the winning target of 135 for no loss in 72 balls to win by all ten wkts with 36 balls to remain. Siyam hammered a match-winning unbeaten 84 in 40 balls while Abhijit made 39 not out and the two added 135 in 72 balls for the unbroken opening stand.
Match # 4: Eviuem declared the winner against Makkah Kings on Technical No Show.
Match # 5: Siddique XI opting to bat first against Bupa Arabians piled up 202 for 6 and then restricted opponents to 187 for 7 to win by 15 runs. Siddique XI after a not-too-happy start with 25 for 2 got the reprieve as Man of the match Attaurrehman hit 78 in 36 balls to add 127 in 59 balls for the 3rd wkt with Farooq Omar who made 47 in 30 balls to get to 152 in the 13th over.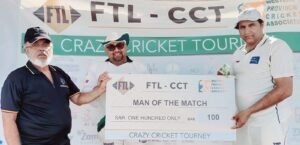 Bupa Arabians started well to add 70 in 35 balls for the opening stand between Shan who made 54 in 25 balls and Waseem making 31. Rabiullah then hit 33 and Rauf 35 to add 74 in 41 balls for the 3rd wkt but then 158 for 3 in the 15th over required 45 runs in 18 balls was achievable but then they lost wkts to be reduced to 184 for 6 and the match lost. Shoaib took 2 wkts.
Match # 6: Al Saudi XI against Warraich Gujarat Xi blasted 220 for 8 and then the opponent crashed for 108 to lose by the highest margin of the victory of 112 runs. After initial setbacks with 38 for 2 with both prolific Kashif and Omardin returning reasonably early, Adnan Mohsin hit 61 in 21 balls ti add 62 with Zeeshan 22 to get to 100 in the 8th over. Later Saqib hit 57 to get past 200 in the 16th over. Rafeeq bowled well for his 4 for 42, Muzammil and Ilyas 2.
Warraich Gujarat XI in reply lost wkts at frequent intervals and was looking just to bat and not to chase this marathon target. Ilyas made 26 and Mohammed Rafeeq 25. Naeem took 2 wkts.
Match # 7: MM Group choosing to use the track first against SAS belted 182 for 7 and then humbled opponents to 93 to win by 89 runs. MM Group with a fine start given by the openers put up 75 in 36 balls as Junaid top scored with 56 in 30 balls whereas Liaqat stroked 38. One down Ateeq made 41 to get to an impressive 182 for 7. Ali, Irfan Tahir and Rehmatullah grabbed 2 each.
SAS System Engg was crushed for 93 to lose by huge 89 runs as no batter from their ranks could cross the double-digit except Aleem making 18. Owais bowled well for his 5 for 20 in his 4 overs.
Match # 8: (Score Sheet Missing) Nadeem XI opted to bat first racked up 218 for 5 against Arcoma and then restricted them to 150 for 7 to win by 68 runs. Intekhab hit 56 in and Ejaz 41 to add 100 for the opening stand to provide a solid start. Later Skipper Nadeem stroked 40 in 21 balls as he added 66 runs for the 4th wkt after they lost 2 quick wkts to be reduced to 128 for 3 with Nabeel making 20 and Ahmed 19 not out. Asif Mujtaba grabbed 2 wkts.
Arcoma in reply was stranded at 150 for 7 to lose by 68 runs. Mohammed Ismail made 32, Zohaib 31 and Ayazuddin 22 against some accurate bowling. Osama took 2 wkts.
Match # 9: Sunbonn Sultans racked up 229 for 3 against Sialkot Shaheen and then restricted opponents to 174 for 5 to win by 54 runs. Naik smashed an unbeaten 126 in 57 balls with 3 sixes and 17 fours to add 72 for the opening stand with Sufyan (29) and then 89 in 46 balls for the 2nd wkt with Roman making 38. Azeem made 21. Hammad took 2 wkts.
Sialkot Shaheen in response batted well but then the required run rate was too steep for them secondly, they lost batters at regular intervals and could reach 174 for 5 to lose by 54 runs. Shehzad stroked an unbeaten 51 in 33 balls, Yasir 33 and Sajjad 27 as none other could make any impact or support. Azeem took 2 wkts.