Press Release Pakistan Embassy NIAMEY:
His Excellency Mr. Ahmed Ali Sirohey Ambassador of Pakistan to Niger inaugurated the new school on Friday, 20th January 2023, in the presence of a large gathering of dignitaries, teachers, students and community members. With an aim to ensure access to better education for street children in Niamey Rotary club Moringa International and Pakistan Embassy in Niamey supported a new school building in Harobanda, NIAMEY.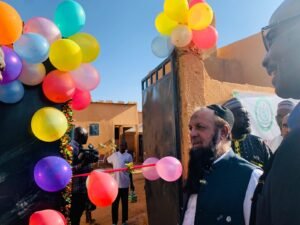 Harobanda street children's school is one of the tireless efforts of his Excellency Mr. Ahmed Ali Sirohey since he took office in Niger to come to help the needy and poor persons, especially children and orphans. He considers that all children should have a safe and child-friendly place. A place where they can learn, play and grow with dignity. This is part of the support to the government of Niger in its efforts to ensure a good education for all children.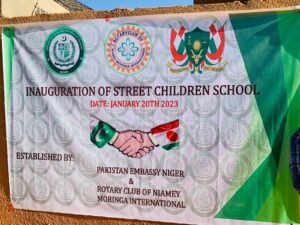 These new school buildings follow the standard design of child-friendly schools. Schools that have enough space for children; have suitable chairs and tables, and schools with toilets and hand-washing facilities with soap and clean water. The total budget of this project is 15 million FCFA. The classrooms and buildings are important because studies have shown that the most crucial inputs to ensure a good education for children are learning facilities and teachers.
On one hand, The Head of the street children school Mr. Jibrael thanked the Embassy of Pakistan and Moringa International Rotary club for building this school for street children who are everywhere in Niamey and don't have access to education. This school will surely help many of them to leave the street and start going to school.
On the other hand, the district governor of the Rotary club and His Excellency Mr. Ahmed Ali Sirohey Ambassador of the Islamic Republic of Pakistan to Niger, and President of Moringa International Rotary club delivered respectively their remarks. They highlighted that the objective of building the street children's school is to help them to have a good education as every child. It is a humanitarian action that each and everyone should encourage and should be sustained in Niger. It respects the united nations' sustainable development goals 4 and 10 respectively for Quality Education and Reduced Inequalities.