BY: Syed Mussarat Khalil
In Jeddah, Memon Leadership Forum (MLF), Memon Youth Development Forum (MYDF), and MASA Saudi Arabia jointly host a program titled "Welcoming Ramadan" at a local hotel.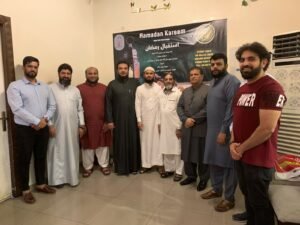 The program started with the recitation of the Holy Quran by Aqeel Teli. Naat-e-Rasool-e-Maqbool (PBUH) presented by Kaleemjet Porwala.
Siraj Adamji, Chairman of MLF, Founder Member MYDF and Head of Media MASA Saudi Arabia, was the master of the ceremony. He welcomed the guests. He said in his speech that we regularly hold the Ramadan welcome program every year.
The program is being watched online today as before. He added that today's program is a joint venture program by the Memon Leadership Forum (MLF) and Memon Youth Development Forum (MYDF). He said that MYDF is the spokesperson for our young generation, and the religious program also aims to educate our children. MASA is a well-known welfare society in Jeddah, providing every welfare, religious and reform service, sports, and education, covering every aspect of life.
Introducing MLF to Saudi Arabia was necessary to develop leadership from our youth in our Memon community. Maulana Muhammad Shakir explained the virtues and blessings of the month of Ramadan in the light of the Prophet's life.
He said that we should try to make all our preparations, including food items, etc., before the month of Ramadan so that we spend maximum time in Ramadan in worship and recitation.
It is a month of opportunities for Muslims to seek forgiveness and repentance for their sins; a time to devote oneself to prayer and establish a connection with Allah (swt); a month of unlimited blessings, offerings, and rewards for Muslims to avail and if everyone knew all the benefits of being in I'tikaf, they would be sure to perform it every year.
Finally, Siraj Adamji thanked the core committee of MASA, MYDF's founder members, as follows, who are also part of Ramadan programs, Siraj Adamjee, Siraj Lala, Imran Muscatia, Sadiq Sorathia, Jawaid Kherani, Kaleem Jetpurwala, Abdul Kadar Africa Wala and media representatives Mohammed Amanat Ullah, Syed Mussarat Khaleel, Jahangir Khan, Ladies journalists who done reporting via ZOOM Sarah, Khadija Malik and Marium Shahid.
Sadiq Surthia gave a vote of thanks.
The event ended with a sumptuous dinner.