by: Haveli Lakha by Muhammad Ahmad Sajid
Tuberculosis is a 100% curable disease. Tuberculosis, commonly known as TB, annually affects 5 to 7 lakh people and about 44,000 people suffer from TB due to lack of timely diagnosis and treatment. It is more common among people living in poverty and living in dark and closed rooms.
Nadeem and Muhammad Ahmad Sajid, Central Coordinator, Pakistan Social Association, in their address at the event of distributing gift packs to patients on the occasion of World TB Day, added that cough, yellow sputum or Bleeding, mild fever, night sweats, loss of appetite and weight loss are the main symptoms of this disease.
Get tested by a trained and certified TB doctor. Drug-resistant TB is spreading at an alarming rate, which can be diagnosed with the Gene Expert machine. Every district headquarters hospital has a gene expert machine. If TB disease is detected, in that case, TB can be completely cured by treatment. On the occasion of World TB Day this year, we reiterate this.
We will set an example by making our environment TB free. For this purpose, let us all fight together to end TB at all levels so that people's lives can be saved. Teachers, religious scholars, social workers, media, lady health visitors can play their role with this.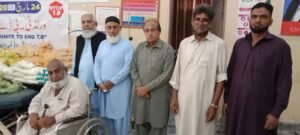 Philanthropists can also contribute because the patient is in dire need of food along with treatment, as this disease occurs in people living in poverty, so it is important to provide them with good food. To reduce the social and economic burden caused by TB on our families and the entire nation, the health department has taken measures on priority basis for prevention of TB despite limited resources through mobile units.
Free medical camps have been set up in different places and remote areas to prevent the spread of this disease. On this occasion, TV patients were also given Ramadan ration packages. Submit your donations, Sadaqat, Zakat for the welfare of patients.