Riyadh-(Dr. Amer  Mohammed Habibullah).
The Saudi Society of Landscape Architecture (SSLA) has been officially recognized by the International Federation of Landscape Architects (IFLA) following the recent World Congress of Landscape Architects, which took place concurrently in Nairobi, Kenya, and Stockholm, Sweden from September 28th to 30th, 2023.
Dr. Amer Mohammed Habibullah, the co-founder and president of SSLA, explained that the society was established in 2021 at King Abdulaziz University with the aim of promoting and raising awareness about the importance of the landscape architecture profession. The board members of SSLA include Dr. Ahmad Maghrabi, Dr. Nawaf Alhajaj, Mohammed AlSaud, Eyad Fadal, Raed Dawood, Essa ALmozainy, and Murad Abbas.
Dr. Habibullah noted that Saudi Arabia took the lead in establishing the first undergraduate program in landscape architecture in the Middle East. The program was founded at King Abdulaziz University in Jeddah in 1976, followed by the establishment of a Bachelor's program in landscape architecture at Imam Abdulrahman bin Faisal University in Dammam in 1992.
The introduction of academic programs in landscape architecture has had a positive impact on the quality of urban landscape projects in the Kingdom, leading to the achievement of numerous international awards. Notably, the Wadi Hanifa project and the Diplomatic Quarter (Alsafart) project in Riyadh both received the Aga Khan Award for Architecture in the landscape architecture category.
Dr. Alhajaj, the head of the scientific committee at SSLA, mentioned that the Department of Landscape Architecture at King Abdulaziz University has achieved success in various local and international design competitions. Most recently, the department secured first place in an international competition for designing a university within a park, showcasing the global capabilities and potential of Saudi landscape architects.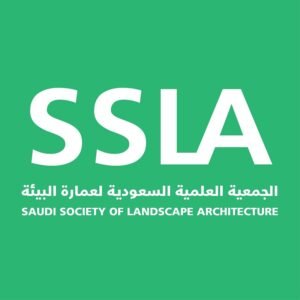 He emphasized that landscape architecture is a contemporary multidisciplinary field that values environmental stewardship, social cohesion, and economic viability. By integrating principles of sustainability and design, landscape architects play a crucial role in shaping the future of our cities, ensuring they are harmonious, resilient, and sustainable for future generations.
Dr. Habibullah believes that the majority of Saudi Arabia's Vision 2030 projects, including urban development, historical and natural preservation, tourism, environment, housing, and sustainability initiatives, directly or indirectly rely on the field of landscape architecture.
Major projects such as the Red Sea and Soudah, Amala, Al-Qiddiya, Riyadh Green, King Salman Park, and others require the expertise of landscape architects. Therefore, the presence of Saudi landscape architects is essential to contribute to the realization of the Kingdom's vision in various areas, including the future of cities, quality of life, tourism, community health, and sustainability.