BY: Ch. Muhammad Natiq
The closing ceremony of the 1st Karachi Open Games for Differently Abled Persons was organized at Sachal Rangers Sports Complex on the 18th of February 2023. Just a day after Sindh Rangers averted the terrorists attack at Karachi Police Office this closing ceremony was organized.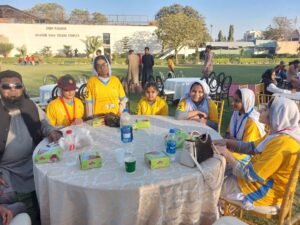 The importance of this ceremony can be judged by the smiling and happy faces of special needs athletes. It was a 3 days sports event where special needs athletes competed in different disciplines.
It was an international standards event that was sponsored by technology and adopted by Sindh Rangers. Sindh Rangers provided the sports individuals and their officials with complete facilities.
All players and their officials were provided accommodations and logistics facilities by Sindh Rangers. The National Paralympics Committee of Pakistan has selected the best athletes for the International Paralympics Event, which will be held in Italy.
Sindh Rangers not only saved the city from terrorists but also adopted the special needs community when they were totally neglected by the nations. An extremely humble and noble initiative by Sindh Rangers. Smiling and happy faces of athletes gave hope to this country, hats off to the Sindh Rangers
Salute and respect.