Defending champions Bahawalpur were defeated by Quetta by 2 wickets. Nusrat Ullah was the man of the match with 4 wickets.
Multan beat Karachi After winning by 7 wickets, they won their second consecutive victory. Jahanzeb Tiwana was named Man of the Match.
by: Muhammad Nizam Karachi (Sports Reporter):
Defending champions Bhawalpur were defeated by Quetta by 2 wickets in a thrilling match. Bhalpur's first defeat after seven consecutive matches, played at Rashid Latif Academy Tuesday in connection with the group A phase of the ongoing National Championship under the management of Pakistan Physical Disability Cricket Association, Bhalpur PD was playing first in 16.4 overs due to Nusratullah's devastating bowling. In front, only 80 runs were piled up. Adnan Waqar scored 18 runs and Mohammad Asif scored 15 runs.
On behalf of Quetta PD, Nusratullah dismissed four players by giving only 3 runs, while Jaman Shah took three wickets for 13 runs. Thanks to Waqarur Rahman's brilliant sixes, Nusratullah scored twelve on his behalf while Nizamuddin scored twelve and Waqarur Rahman scored 11 valuable runs not out. Make memories to reach the target of 81 for 8 wickets in 19 .4 overs. Abdul Khaliq of Multan bowled well and took four wickets for 13 runs. Chief Guest Regional Head Multan and Bhalpur Jameel Kamran gave a cash award of Rs.1000 along with the Nusratullah Man of the Match trophy. Amiruddin Ansari, Zia Shamim and Mohammad Nizam were also present on this occasion.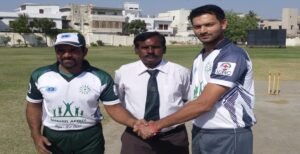 In the second match, Karachi PD, while playing first, returned to the pavilion for only 83 runs, Kamran Khan could score 17 runs on his behalf. On behalf of Multan, Zubair Saleem scored 2 runs and Japanzeb Tiwana 2- 16 and two players
In response, Multan PD made the required score of 84 runs for the loss of 3 wickets in 10 overs. Jahanzeb tiwana scored 41* off 27 balls with two fours and three sixes while Matloob Qureshi was 23 not out. Dr Basit Ansari, Head of Health, Physical Education and Sports Science, University of Karachi, presented the Man of the Match Award to Jahanzeb Towana for his all-round performance. On this occasion, Jameel Kamran presented commemorative medals and other gifts on behalf of PPDCA to the chief guest.