By: Javeria Asad:
The annual "National Readers Conference 2022" will be held under the auspices of "Read Pakistan" to promote reading as a national habit. This concept was initiated by Chairman "Read Pakistan", Mr. Farrukh Daal and President Ms. Fatima Gilani. The theme of the event is "Rekindle your life through reading". The agenda of this literary conference is embellished with informative, educational and entertaining activities including keynote speeches, social play, books launch, a Books exchange program and a panel discussion to highlight the significance of books and reading in our lives.
In this conference, national and international experienced speakers from various fields of literature, education and life will participate to discuss the importance of reading through their personal experiences and insights. Also, literary contests and distribution of certificates and acknowledgements awards are organized to encourage those national and international members who performed well for "Read Pakistan".  The speakers of the conference are Senator Waleed Iqbal, Dr. Babar Awan, Barrister Aitzaz Ahsan, Anwar Masood, Air Marshal (Rtd) Masood Akhtar, Tauseeq Haider, Sadaf Raza, Dr. Ashfaq Wark, Ahmed Qureshi, Usman Raza, Hamid Mehmood, Muhammad Ismail and Dr. Khalid Al Dossary and others.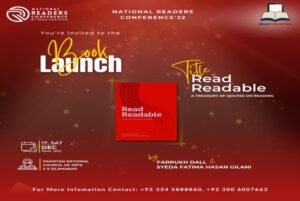 Moreover, the books that will be launched in this event include "Quran is Your Life" by Farrukh Daal  "Read Readable" by Fatima Gilani and books by Poetess Sadaf Raza.  The main highlight of the event is 50 Books a year award competition. It's the largest reading competition launched by Read Pakistan in which eight partner universities and five schools fro joined hands to rejuvenate the passion for reading in their students.
Winners of the competition would be awarded during the event. Overall it would be a remarkable event which will celebrate all forms of literature with its true essence and soul. If you didn't book the ticket then take immediate action and get your pass to witness this amazing gathering of intellectuals.