by: Javeria Asad TN Media News 
Elite Club Saudi Arabia organized a colourful event on January 14, 2023, to celebrate the.  festivities of the new year attended by a large number of women and kids from Pakistan, India, Sri Lanka, Lebanon and other countries.
Elite Club Saudi Arabia is a social, welfare, literary and community organization serving various communities in the Eastern Region of Saudi Arabia since 2013. On this occasion, the founder of the club, Javeria Asad, mentioned that Elite Club Saudi Arabia provided a quality platform for women and kids to enhance their social, entrepreneurial, academic and social skills. All programs designed by Elite Club are very useful and informative particularly literary programs are great sources of knowledge.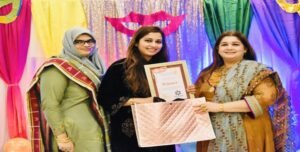 Club members Sadia Tajmal, Saba Idrees, Sana Batul, Shafaq Imran, Madeeha Muzamil, Lubna Manaf, Nazish Ali, Ayesha Tariq, Ayman Afaq, Sumaira Haroon, Farheen Hamid and other speakers said that the Elite Club in Saudi Arabia is providing a positive and constructive atmosphere to the community. These events create harmony and unity between different cultures and communities.
At the event, the local hotel of Al-Khobar was decorated with beautiful decorations and various interesting activities were organized for the attendees. The most liked segment of the event was the brain and beauty contest, which was won by Dr. Asana.
Javeria Asad gave special gifts to the new members of the club and congratulated them for joining the club. All the attendees appreciated and encouraged the club's efforts and services.