Pakistan International Property Expo Organizing by Pakistani Executive Forum & Globo Asia at Jeddah on 25th & 26th August.
As per Oraginazer PIPEX Management, this expo will be 1st Expo in Saudi Arabia there Pakistani's Largest and most developed societies are participating and interacting with directly buyers. buyers directly will buy from societies and builders Commerical Plots, residential, Villas and form houses and many more.
Pakistan Executive Forum (PEF) is a Networking platform for the Executive and entrepreneur Business classes of different Pakistani companies to share, collaborate and cooperate with each other in the professional domain under the PEF umbrella to enhance business opportunities, create collaboration JVs among companies and to share the business-oriented knowledge among each other to grow as a single Pakistani national. This group gives opportunities to different entrepreneurs to present their skills and expertise.
Globo Asia is a Leading Exhibitions, Trade Shows and investment innovative and value-driven company in the business of the exhibition industry with expertise in Global Conferences, Trading, Investment summits, B2B arrangements, international travel & tour and Delegates management. Over the past 5 years, Globo Asia has successfully produced in excess of 51 expos held in UAE, Central Asia, China and Pakistan engaging 1000 plus exhibitors and over 50,000 investors.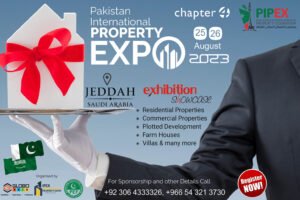 Please find below registration links:
Exhibitor registration is the link: https://globoasia.net/pipex-online-exhibitor-form/
Visitor Registration Link: https://globoasia.net/pakistan-international-property-expo-online-visitors-registration/