by: Tahir Karamat TN eastern province Dammam Saudi Arabia.
After winning the toss, Khobar Rangers batted first and set a target of 284 runs against Fire Rocks. An outstanding performance by Mohammad Abdullah scored 79 runs. Moweez Imran contributed 63 runs, and Imran Arif contributed 62 runs.
Waqas Alvi, who is their captain and team owner, took 3 wickets from Firefox with excellent bowling. Mohammad Omir bowled out 2 players, and Falak bowled out 2 players.
In the second turn, Firerocks put in a strong effort, and midway through the match, it looked like Firerocks would chase down the target.
Outstanding batting Umeer Ashraf scored 75, Abdul Manan 44, and Iftikhar Nahi 40.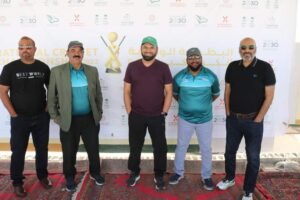 The bowlers of Khobar Rangers did a marlwals job and restrained firox and won comprehensively with 7 runs. Zain took 2 wickets so and Muhammad Abdullah 2 as well. Mr. Kabir Khan, who is the head coach and selector of the Saudi cricket federation, also presents on the special invitation
From Mr. Farhat, president of EPCA. Mr. Unni, of Al Turki, also witness this wonderful encounter.
The Man of the Match Awards, organized by Sunrise Digital Media, were distributed by their representative, Mr. Afnan.
Man of the Match Abdul Rahman
The best bowler is Zainul Abedin
Best Catch Zeeshan Butt
Excellent fielding Moeez Imran
Imran Arif is the best all-rounder.
At the end of the ceremony, Mr. Farhat Mahmood, with his ex.com, thanked all the attendees and fans.