By: DR. SAYED ZIAUDDIN JEDDAH
IN the FTL-CCT tourney week 2 matches, 3 centuries, 10 fifties and 4 wkts haul by 3 different Players were registered in the Morning Session. A fine day with winter showing its glimpses as Players enjoyed the fine and pleasant weather to for the game of cricket.
8 matches took place in the Morning Session as Super CC downed AEC, Apex Freight prevailed over Potohar XI, Igloo Kashmir Stags tamed Jeddah falcons, Siddiq XI defeated AWCC, Al Saudi XI thrashed ADI XI, MM Group won against Warraich Gujarat XI as Sunbonn Sultans had the last laugh against Nadeem XI as Arcoma tied against Pak Shahin after a fierce battle on ground # 3.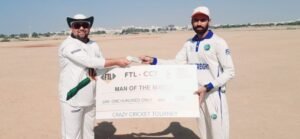 Match # 10: Super Cc decided to bat first against AEC to put up an impressive 168 for 4 in the allotted 18 overs and then restricted AEC to 124 for 6 to win by 44 runs. Farhan Choudhry hit 44 in 39 balls as he added 80 runs in 62 balls with jibran who made 45 in 32 balls. Earlier Yasir departed for 22. Yasir Iqbal made 19 not out. AEC in response lost wkts at regular intervals to be stranded at 124 for 6 in the stipulated 18 over to lose. Abdulrehman patel made 24. Tariq Chandio and Yasir 22 each. Yasir and Asif took 2 wkts each. Mom: Yasir Iqbal of Super CC was given the award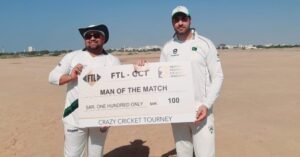 Match # 11: Apex Freight opting to bat first against Potohar XI amassed 217 for 2 in the allotted 18 overs and then defeated Potohar by 103 runs. Mohammed Suleman of Apex in sublime touch hammered an unbeaten 128 in 61 balls with 2 sixes and 16 fours as he stitched 156 runs in 77 balls for the opening stand with Riasat Ali who made 63 in 31 balls with 9 fours to set up 217 for 2. Potohar XI in reply could not match the marathon target to be stranded at 114 for 9 in 95 balls to lose by 103 runs. Zeeshan hit 60 in 36 balls with 10 fours and a six but then while chasing this mammoth target, partnerships are required to come near that tally. AbdulRehman grabbed 4 wkts for 17 runs as Riasat and Sardar had 2 each. MOM: Mohammed Suleman was adjudged the MOM
Match # 12: Igloo Kashmir Stags asked to bat first by the opponents Jeddah Falcons slammed 232 for 6 in the allotted 18 overs and then restricted Jeddah falcons to 118 for 5 to win by 114 runs. Igloo Kashmir Stags batting first after losing the toss tallied a huge 232 for 6 in the allotted 18 overs thanks to Danish Qadri hammering 63 in 40 balls with six and 7 fours. Earlier Saeed Riaz made 25, Majid Butt 21, Nasir Ramazan 22 and Saeed unbeaten on 40. Rehaan Khan took 2 wkts. Jeddah falcons in reply were stranded at 118 for 5 to lose by 114 runs. Yusouf made 29 and Saquib 22. Azad took 2 wkts. MOM: Danish Qadri of Igloo Kashmir Stags.
Match # 13: AWCC using the track first against Siddiq XI managed 190 for 6 in the allotted 18 overs and then Siddiq XI through Qasim and Sheeraz batted magnificently to chase the required 193 for 1 in just 80 balls to win by 9 wkts with 28 Balls remaining. AWCC batting first after winning the toss had Asif in super touch to hammer 125 in 62 balls with 4 huge sixes and 20 fours while Naveed made 30. Siddiq XI in chasing reached the required winning target of 193 for 1 in just 80 balls to win comfortably as opener Qasim Raja blasted 87 runs in 31 balls studded with 6 sixes and 10 fours while he added 144 runs in 58 balls for the first wkt with Sheeraz who remained unbeaten on 66 off 33 balls to win. MOM: Qasim Raja of Siddiq XI bagged the award.
Match # 14: Al Saudi XI opted to bat first smashed a mammoth 269 for 7 in the allotted 108 balls against ADI XI and then crushed the opponents to 131 for 8 to win by 138 runs. Omar Pathan opening the innings hit 13 fours and 6 sixes to compile 91 in 27 balls as he stitched 105 runs for the first wkt in 35 balls with skipper Nadeem Saad who made 37 in 23 balls. Later on down Kashif Shafeeq smashed 102 in 40 balls studded with 5 sixes and 12 fours to get to an enormous 269 for 7. Fayaz took 3-47 and Saqib 2-18. ADI XI responded with 131 for 8 to lose by big 138 runs. Kashif made 35 and Sajid 16 as none other could touch the ten-digit mark. Ghulam, Naeem and Jibran claimed 2 wkts each. MOM: Kashif Shafeeq received the Mana of the Match Award.
Match # 15: Warraich Gujarat XI chose to bat first after calling the coin correctly to get to 134 for 7 against MM Group and then MM Group achieved the victory target of 141 for 4 in 87 balls to win by 6 wkts with 21 balls to spare. Nasir hit 44 in 26 balls, Adeel 23 and Osama 28 not out. Junaid grabbed 3-28 and Shoaib 2 wkts.  MM Group in chasing lost 4 wkts to get to the victory target of 141 in 87 balls. Ateeq was the top scorer with an unbeaten 51 in 37 balls with 7 hits to the fence and Junaid Subhani 36. Zulfiqar took 2 wkts. MOM: Junaid of MM Group was the Man of the match Prize achiever.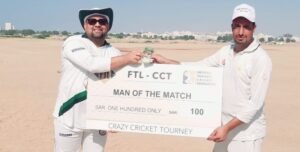 Match # 16: Arcoma deciding to bat first on Ground # 3 against Pak Shahin was bowled out for 160 and then Pak Shahin requiring 7 runs in the last over could score 7 runs to TIE the match. Arcoma after a not-too-good start at 7 for 2 had Badaruddin hitting 23, followed by Zohaib's 22 to get to 40 for 4 in the 5th over. Nabeel then hammered 50 in 32 balls with six and 6 fours to add 63 in 42 balls for the 5th wkt with Asif (22) to get 103. Yasir claimed 4 for 24 and Ahmed 2. Pak Shahin in chase could get to the same score of 160 to TIE the match. Mushair batted well for his 81 in 39 balls with 3 sixes and 10 fours but then there was no proper support from the other end as the procession of batters continued. Hassan made 27. Asif got 2 wkts.
Match # 17: Sunbonn Sultans won the toss to bat first against Nadeem XI on Ground # 5 to pile 144 for 8 in the allotted 18 overs and then won the match by 14 runs by crushing Nadeem XI to 130. Naik opening for Sunbonn Sultans hammered 66 in 41 balls while Azeem contributed 35 after the top order failed miserably with three batters returning back without opening the account. Ahmed took 2 scalps. Nadeem in response started chasing but then they lost wkts at regular intervals as Ejaz made 39, Museo 20, Deepak 19 and Saddam 18 while none other could cross the double digits to be bowled out for 130. Azeem was the pick of the bowlers with 4 for 20 and Sufiyan 3-32. MOM: Azeem of Sunbonn Sultans picked up the Man of the match.