By: Dr. SAYED ZIAUDDIN JEDDAH
In the FTL CCT WPCA Afternoon Session 1 Century by Atif Gill and a five-wicket haul by Attaurrehman, 3 fifties and 4 wkt hauls by 3 different Players were seen here at WPCA Arena in Jeddah Waziriyah District.
Hyderabad Sharks powered by Atif Gill's ton downed Marine Services, FRC Planet technology defeated Silver Hawks in a low-scoring match, Stallions dominated Young Strikers, Tuskers had the last laugh against Nesma Airlines on Ground # 5, Zultec crushed Al Kabbani cricket group as IDB Group won against Karachi Warriors on Ground # 9.
Match # 7: Hyderabad Sharks opted to bat first on Ground # 8 amassed 212 for 2 in allotted 18 overs against Marine Services and then restricted the opponents to 115 to win by 97 runs. Hyderabad Sharks with Atif Gill blasting unbeaten 101 in 50 balls studded with 3 sixes and 10 fours as he first added 111 runs in 50 balls for the 2nd wkt with Shehzad who made 77 in 33 balls with 3 sixes and 11 balls and then 88 in 53 balls for the unbroken 3rd wicket to get to a huge 212 as Qaumber Iqbal remained unbeaten on 28 after they lost Mohammed Usman (5) early at 13 for 1. Marine Services in reply was stranded at 115 to lose by 97 runs. Mohammed Sohail hit 64 in 50 balls and Mohammed Akram 22 as none other from their ranks could cross the ten-digit mark. Atif Gill after batting magnificently bowled devastatingly for his 4 for 13 in 4 overs. MOM: Atif Gill of Hyderabad Sharks.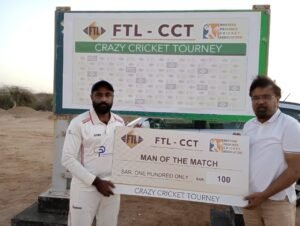 Match # 8: Silver Hawks opting to bat first against FRC Planet Technology was bundled out for 118 in the allotted 18 overs on ground # 1. Salman was run out for 29 and Piron for 17. Afzal grabbed 4 wkts for 23 in his 3.3 overs whereas Saifuddin had 3-28. FRC Planet Technology then chased the required winning target of 120 for 5 in 90 balls to win by 5 wkts with 18 balls to spare. Rafeeq hit 35 in 29 balls while Nishad made 33 in 25 balls to add 70 in 43 balls for the 2nd wkt to get to 84 for 2 in the 10th over. Farhan took 2 wkts. MOM: Afzal of FRC Planet Technology.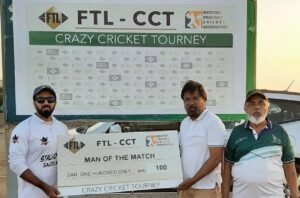 Match#9: Stallions decided to use the track first and slammed 191 for 5 thanks to timely innings of unbeaten 50 in 15 balls by Jahanzeb who belted 5 sixes and 4 fours after they were 79 for 3 in the 8th over and then 123 for 4 in the 13th over. Earlier Abdulrehman made 37 in 22 balls, Mazhar 30 in 21 balls and Aqeel 34 in 26 balls. Young strikers in response could manage 160 for 8 in the stipulated 18 overs to lose by 31 runs. Young Strikers requiring more than 10 runs per over lost wickets at regular intervals to be reduced to 56 for 4 and then 83 for 6 in the 9th over. Later in the late middle order, Sibtain Ali resisted with 48 off 28 balls but then it was too late in the day as A. Afzaal made 27 and Fahad was unbeaten on 27.
Aftab Malik claimed 3-37. MOM: Jahanzeb of Stallions
Match # 10: Tuskers won the toss against Nesma Airlines to rack up 181 for 5 in the allotted 18 overs and then bowled out the Airliners to 175 to win by 6 runs. Shibu top scored with 45 in 32 balls as he added 65 in 37 balls for the 3rd wkt with Haroon who made 39 with 3 sixes and 2 fours after they were reduced to 42 for 2 with Yashik making 22. Later Raheem hit an unbeaten 36 in 13 balls to get to an impressive 181 for 5. Abdali took 2 wkts. Nesma Airlines responded all out for 175 to lose by 6 runs. Saeed Islam opening for the team blasted 73 in 28 balls with 3 sixes and 11 fours as he added 56 in 29 balls for the 2nd wkt with Adnan (17) after Khawar Zafar returned back on the first ball of the innings. Once Saeed ul Islam returned back at 92 for 3, Nesma lost wkts regularly to get close to the target requiring 28 runs in the last 18 balls. 18 runs in 12 balls and they required 10 more to win in 6 balls with 2 wkts in hand lost with 6 runs remaining. Ashraf bowled well in the last over of the match keeping his nerves intact to take the last two wkts and overall he bowled well for his 4 wkts for 19 runs and Rameez 2. MOM: Mohammed Ashraf of Tuskers
Match # 11: Zultec choosing to bat first after winning the toss plundered 206 for 3 in the allotted 18 overs as the top order clicked to their delight against Al Kabbani Cricket Group and then the opponents batted well but they could not maintain the required run rate to be stranded at 181 for 6 in stipulated 18 overs to lose by 25 runs. Zultec started well with 87 runs in 43 balls came through Amir Sajjad who belted 57 in 34 balls and Waqarul Hasan who contributed 61 in 31 balls and then Shahbaz Rasheed coming at #4 smashed an unbeaten 64 in 28 balls to add 86 in 41 balls for the 4th wkt with Amir Sajjad. Al Kabbani Cricket group in response could get to 181 for 6 to lose the encounter by just 25 runs. Faisal Qayyum hit 46 in 23 balls as he added 52 in 27 balls for the 3rd wkt with Ali Raza who made 27 and Hafiz Rizwan scored an unbeaten 27 but could not match up to the required run rate required. Earlier Imran Qaiser scored 28 in 17 balls and Abdullah Bhatti 20. Waqar and Javed Iqbal took 2 wkts each. MOM: Waqar ul Hasan of Zultec.
Match # 12: Karachi Warriors decided to bat first against IDB group and was bundled out for 117 to which IDB group reached the winning target of 120 for 7 in 100 balls. Karachi Warriors deciding to use the track first was bowled out for 117 with only Ali making 40 in 37 balls and Shahid 19 as none other could touch the ten-digit mark against some accurate bowling. Karachi Warriors neither could accelerate nor could save the wickets. Attaurrehman scalped 5 wkts for just 22 runs in his quota of 4 overs as he was well supported by Abid 3 for 20. IDB Group in chase also lost wickets quite frequently but then the target was so small that a run ball was sufficient to achieve the target. Waqas and Abid hit 20 each, and Ataaurrehman remained unbeaten on 23 to win in the 17th over after playing exactly 100 balls and having 3 wickets intact. Shoaib took 2 wkts. MOM: Attaurrehman has adjudged the Mom for his 5 wkts and unbeaten match winning 23 runs.