By: AtharG TN Sports News Karachi Pakistan.
Pakistan Super League (PSL) 8 franchise Islamabad United wicketkeeper-batsman Azam Khan has said that being the son of a former cricketer in Pakistan makes things difficult. In the press conference after the victory in the match against Quetta Gladiators, Azam Khan said that everyone wants to play for Pakistan, and I am mentally fit.
Azam Khan's batting made the match one-sided, Umar Gul. He said that when he met his father, he praised him and advised him to maintain his performance, his father had told him earlier that there will be criticism but focus on performance. Azam Khan added that he regretted not getting a century, which But the shot was required and the same ball missed.
He said that he had not eaten anything in lunch and came on an empty stomach, he has to practice for the shot of the tournament. The Islamabad United batsman also said that a good shot sometimes Goes, being in the early stages of a career, I rely more on mindset.
PSL 8: Islamabad United beat Quetta Gladiators by 63 runs. He said that the role model is my father, I will play today's innings in the name of my mother, she had come to watch the match, and when both father and mother are present in a match, there is pressure.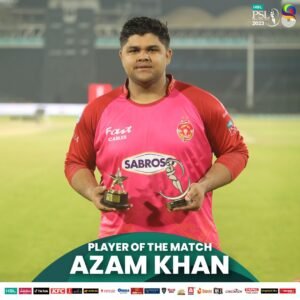 Azam Khan said that You should never be satisfied with your performance, when you score runs, you should be more hungry for runs. He said that Shadab Khan has played a big role in bringing me to Islamabad United. Balls are to be played. Islamabad United batsman said that Babar Azam is a great batsman, and criticism of him is not appropriate, I have been overweight since the beginning, do not focus much on criticism.
Thanks to Azam Khan's smoky hitting, Islamabad United easily won the second match in a row and sounded the alarm for other teams in the Pakistan Super League. Azam Khan played against his father Moin Khan's team today and how well he played. He came in at number five and played an inning of 97 runs off 42 balls which included eight sixes and nine fours.
The highlight of this inning was that when Azam came to the crease, three Islamabad players had returned to the pavilion and the score was only 43 runs. Islamabad scored only 77 runs in the first ten overs but the kind of hitting that Azam Khan did in the next ten overs will surely go down as one of the most memorable innings in the history of PSL.
He took a bit of time in the beginning but he scored 80 off his last 26 balls and while Islamabad's score was 128 for four at the end of 15 overs, it had increased to 220 by the end of the innings.
Azam Khan was also supported by Asif Ali who played an inning of 42 runs with the help of four sixes and one four.
Azam Khan also gestured towards his father after completing his half-century and received praise from him, but the highlight of his innings today was his batting according to the field placement at the start. He hit Muhammad Nawaz for a six-over cover and made good use of a short third man against the fast bowlers.
Azam Khan hit fast bowler Muhammad Hasnain for a 102-meter sweep six in what is being called one of the best shots of the tournament.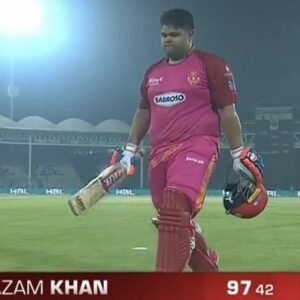 While Azam Khan's bill was pouring in runs, Sarfraz Ahmed's Quetta Gladiators had no answers to stop them. Quetta's bowlers bowled well in the first 10 overs, but could not get the control they needed in the middle overs from Amil Khan, Mohammad Nawaz and Odin Smith.
When Quetta started their innings, Martin Guptill and Jason Roy were targeted by Fazal Haque Farooqui and Abrar Ahmed and the team did not get the platform they had hoped for in the opening.
Will Smid be included in the team today by Quetta who could score just 17 runs off 11 balls and fall victim to Abrar Ahmed?
Sarfaraz Ahmed and Mohammad Hafeez put on a partnership of 69 runs but they could not bring the aggressive style that the team needed, Sarfaraz 41 runs off 36 balls while Hafeez played good innings of 48 runs off 26 balls.
Iftikhar Ahmed who came later could score 39 runs off 27 balls and thus the entire Quetta team scored 157 runs and were all out on the first ball of the last over.
Sarfaraz Ahmed praised Azam Khan's innings after the match and said that he was batting like Azam Khan in the last few overs, he was hitting good balls across the boundary. No matter how much I praise them, it is less.