Report Saudi Arabia Javeria Asad:
Elite Literary Society Saudi Arabia's monthly literary series Elite Literary Prism organized a special meeting on the birthday of Quaid-i-Azam Muhammad Ali Jinnah. A large number of guests from Saudi Arabia and Pakistan participated in this session.
The sit-in was moderated by RJ Fawad in his signature style and he highlighted the life of  Quaid-i-Azam and his tireless efforts to achieve the dream of Pakistan. The founder of the club, Javeria Asad, explained the aims and objectives of the club and the literature society and highlighted the articles of the latest edition of the club magazine Elitian times 'Travel and Tourism.
The guest author and renowned book tuber Shahrukh Nadeem gave a brief review of his book 'READiSTAN' and stated that reading and knowledge could help us achieve the developed Pakistan that Quaid-e-Azam had envisioned.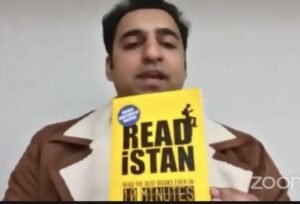 Educationist Sabeen Naz presented a keynote speech about the personality of Jinnah and his personal life, she highlighted that he was a kind leader and a very compassionate, sincere and good-mannered person. His entire life teaches us how to live like a meaningful individual.
Life Coach Sunita Menon gave a special talk in connection with Elite Mentor Talk.  Author Asma Hamza launched her book 'The Un Happy Plants', which is a collection of children's stories.  RJ Fawad and Faiz Ali Hassan presented book reviews of the book Something for nothing' by Brain Tracy and 'Travel the world without worries' by MAREK BRON.
Amina Haroon, Farwa Haroon and Hamna Tariq on behalf of Elite Kids Wing paid tribute to the Quaid-e-Azam through their inspiring speeches.  In the end, Javeria Asad, founder of the club, thanked all the participants and presented certificates of appreciation.