By: Syed Mussarat Khalil Special correspondent.
Jeddah- General (R) Dr. Muhammad bin Mustafa Al-Juhani the first Saudi to be crowned President of the Gusi Peace Prize International. He will be the first Saudi to hold the position of President for the next three years. He was nominated among the 14 nominees and winner of the award, in the presence of 700 local and international personalities. The event was held in Manila, Philippines similar to the Oscars ceremony in Hollywood, gaining the trust of the Board of Directors of the Gusi International Foundation for Peace in the Philippines, who choose him as President of this international award.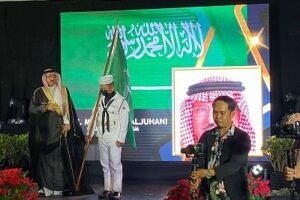 Dr. Al-Juhani delivered a speech during the award ceremony in the Philippine capital, Manila, today. In it, he reviewed the great transformation witnessed by the Kingdom under the auspices of the Custodian of the Two Holy Mosques King Salman bin Abdulaziz Al Saud, and His Highness the Trustworthy Crown Prince – may God protect them -, the tireless work in achieving comprehensive and sustainable development, and the great interest in the environment and the well-being of Saudi people, green Saudi Arabia, and the green Middle East.
He stressed that his attainment of this position is thanks to God and then thanks to the support of wise leadership and that he is a Saudi citizen who received his education, culture and work from his homeland.  Therefore, he dedicates his award to his homeland, the one who is credited with it after God.   The certificates of appreciation for the award bore the signature of the President of the Republic of the Philippines, Mr. Fernando Marcos.  Gen. Dr. Al-Juhani will return next January to receive a certificate of his assumption of the position as President of the Gusi Peace Prize from the Philippine Minister of Justice at the ceremony of handing over the presidency from the former President of the Award, Dr. Aiken Aitkin from Turkey.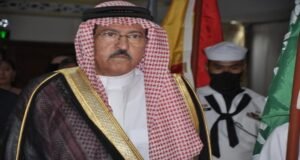 He expressed his hope that the Kingdom would host the Gusi Awards ceremony for the year 2024 AD.  and one of the Arab countries in the year 2025 AD;  Previously, Gen. Dr. Al-Juhani was the first Saudi to head this award;  During the past seventeen years, the former President of Seychelles, the former President of Estonia, the US Senator Emmanuel Jones, and the son of the Prime Minister of China, while the International Peace Prize in the Philippines was awarded by His Royal Highness Prince Bandar bin Khalid Al-Faisal in 2013 AD, as he received it  Also, the former President of the Philippines Fidel Ramos, the former President of Romania, Constantine Fonesco, the former President of Liberia, Mr. Amos together, and the world-famous actor Anthony Quinn;  And other presidents and celebrities around the world. Also, Gen. Dr Al Juhani is Chairman of the First Saudi Environment Association in the Kingdom of Saudi Arabia.