By Syed Mussarat Khalil Special Correspondent TN Media News International.
Kashmir Solidarity Day was observed, today, at the Pakistan House in Jeddah with great enthusiasm. Pakistani and Saudi guests attended the event, showing their support for the people of Kashmir and their cause.
The event started with recitation from the Holy Qur'an followed by reading out of messages from the president, the prime minister of Pakistan and the foreign minister and displaying a documentary on the situation in Indian Illegally Occupied Jammu & Kashmir (IIOJK).
Speaking on the occasion, a number of prominent figures included Brigadier General (Retd) Muhammad Kamali, former Adviser on Defense of Saudi Embassy in Islamabad General (Retd) Abdullah Al-Ghamdi, Chairman Kashmir Committee Masood Ahmed Puri, well-known Saudi intellectual Dr. Faiz Abdin, Chairman Jammu and Kashmir Committee Overseas (JKCO) Sardar Waqas Inayat underscored the importance of Kashmir as a part of Pakistan for which the nation fought several wars with India. They also emphasized that the people of Kashmir must be given the right to self-determination guaranteed by several international resolutions.
The speakers requested the Pakistani government to demand the implementation of United Nations resolutions to conduct the referendum which was supposed to take place 70 years ago. Video massages from Barrister Sultan Mahmoud and Tanveer Ilyas were also presented.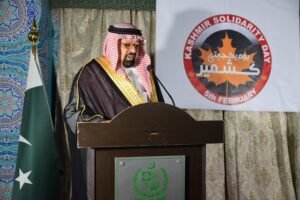 Consul General Pakistan to Kingdom of Saudi Arabia Khalid Majid welcomed all distinguished guests dignities, speakers and highlighted the importance of early grant of the right to self-determination to Jammu and Kashmir people – which was being suppressed and denied by India since over last 75 years, an AJK government spokesman said.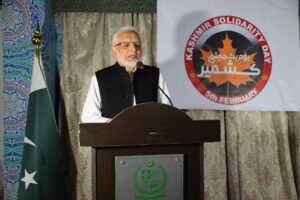 He lauded the Organization of Islamic Cooperation (OIC) for its principled position and consistent support for the resolution of Jammu and Kashmir dispute. Talking to OIC Secretary General Hissein Brahim Taha, he mentioned the support of OIC in accordance with the relevant United Nations Security Council resolutions and the aspirations of the Kashmiri people.
During the event, a special prayer was made for peace in Kashmir and solidarity messages were shared amongst all present. The gathering showed the strong bond between Pakistan and Saudi Arabia when it comes to standing up for justice.