by: Taher karamat TN  Sports News Eastren Region Saudi Arabia.
Bowling first, B.F.C.C restricted Eastern Warriors at 175 & chased the target comfortably inside 28 overs.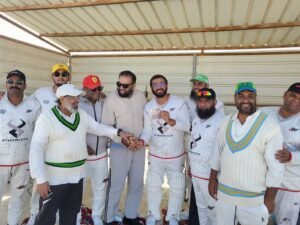 The Picasso of this win was yet again none other than the brilliance of Bilal Butt whose performance with bowl & bat was nothing short of a fine craft of art taking 5 wickets & scoring a marvelous 80 not out to take B.F.C.C over the line.
The icing on the cake was the presence in ground of our senior mentor Mr. Abdul Waheed Chaudhary.. Ex-Member of Al-Ghamidi/Bilal Tigers cricket club who is a die hard cricket lover & specially came all the way from UK to promote the game of cricket.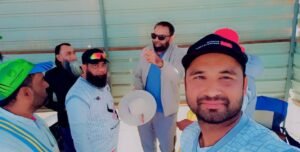 Mr. Chaudhary lectured the group on unity as a team & emphasized on the need to develop the necessary skill set on an individual level for each player so that to compete in this beautiful sport. Mr. Muhammad Bilal also spoke regarding backing the captain & playing unit so that everyone keeps motivated during the game.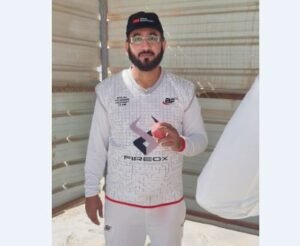 Mr. Tahir motivated the B.F.C.C squad by quoting the famous cricket saying " Life is like cricket, take infinite wickets and face the pace to win the race" In the end of the match ceremony, Mr. Chaudhary gifted special Gray Nicolls hats to all the playing members of B.F.C.C & was presented with an honorary shield by our sponsor Mohammad Bilal , team manager Mirza Farooq & Senior Directors of cricket Mr. Tahir Karamat & Khawar Shahzad for his exemplary services to the modern day game of cricket.