On 17 December 2022, Mr. Sarmad Ali, President, of All Pakistan Newspaper Society(APNS) visited the Elaan Marketing "Open House" in Islamabad. He was received by Mr. Ovais Ali Khokhar, CEO, of Elaan Marketing. He was briefed about the projects of "Ovaisco Group of Companies".
Mr. Sarmad appreciated the projects and initiatives taken by the company. During the visit, he was briefed that Elaan marketing has been selling exclusive projects in Islamabad/Rawalpindi, including the Magnus Mall, GRC, Islamabad Square, Twin city towers, Mall of Korang, the Delicacy, Korang Square.
They are also marketing two top projects in the areas of Murree including Swiss suites in Bhurban and Swiss Suites-2 in Kuza Gali (Ayubia).  During the visit, it was also explained that the company has been working with leading national and international stakeholders and marketing agencies with lucrative selling profits. He was briefed about the future projects of the company with partner organizations.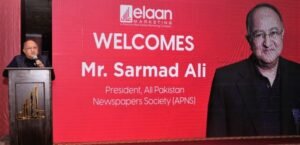 Mr. Sarmad Ali also met the staff of Elaan Marketing and interacted with them. He acknowledged the scope of work of the company and also extended his support in collaborating under various initiatives.