Article by: Ms Irum Fawad | President/WPO | Womenprenuer Pakistan Organization:
We serve humanity on the basis of equal rights & opportunities. A group of people who are visionaries of building communities. Serve the Community so that the community help you to help more. May God give us more to help our fellow human beings amen.
I Irum Fawad am a small part of the team & am privileged to meet extraordinary men behind the scene who are helping their community to build more constructively. It takes one's lifetime to help others but if you start making every human happy by making his life easier then you have accomplished the mission. So talking about Team Balochistan, welfare and an organization that has few masterminds behind the seen I would love to mention these amazing men of honour from Balochistan 👍
Mohammad Chenggaiz Khan  (Chairperson)
Faisal Duad Prince of Kalat
Jansher Baloch Wadara
Mohsin Lashari
Mir Imran Gichki
Hashim Ghilzai
Rabia Omer Hasan
PEOPLE OF BALOCHISTAN:
A number of tribes constitute the people of Balochistan. Three major tribes are Baloch (Baloch & Brahvi) and Pashtoon. The Balochi-speaking tribes include Rind, Lashar, Marri, Jamot, Ahmedzai, Bugti Domki, Magsi, Kenazai, Khosa, Rakhashani, Dashti, Umrani, Nosherwani, Gichki, Buledi, Notazai, Sanjarani, Meerwani, Zahrozai, langove, kenazai, Khidai and Sirmastani.
Each tribe is further subdivided into various branches. The tribal chief is called Sardar while the head of the sub-tribe is known as Malik, Takari or Mir. Sardars and Maliks are members of the district and other local Jirgas according to their status.
The Baloch, believed to have originally come from Arabia or Asia minor, can be divided into two branches: the Sulemani and Mekrani as distinct from the Brahvis who mostly concentrate in central Balochistan. Among the eighteen major Baloch tribes, Bugtis and Marris are the principal ones who are settled in the buttresses of Sulemania. The Talpur of Sind also claims their Baloch origin.
The cultural landscape of Balochistan portrays various ethnic groups. Though people speak different languages, there is a similarity in their literature, beliefs, moral order and customs. The cementing factor is a religion which provides a base for unity and common social order.
Brahvi, Balochi and Pashtoon tribes are known for their hospitality. Guest is accorded is held in high esteem and considered a blessing from God. Better-off people even slaughter sheep or goats for their guests. Sometimes, it so happens that where there are more houses, the guest is assumed to be the guest of the whole village. This open-heartedness is the loving feature of the tribal people and is not as deep in the city.
CSR VISION OF TEAM BALOCHISTAN :
We envision transforming the social-economic landscape of Pakistan by bringing about the most efficient and fair business practices to ensure affordable, reliable and sustainable power services with the active engagement and development of local communities alongside our licenses.  Corporate Social Responsibility or corporate conscience or corporate citizenship or sustainable responsible business (SRB) or corporate social performance is actually how a business unit conducts its business within a society.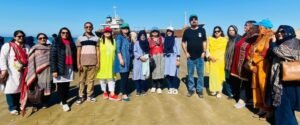 This is the link that connects numerical profit with emotional feelings. According to the World Business Council for Sustainable Development, CSR is the continuing commitment by businesses to behave ethically and contribute to economic development while improving the quality of life of the workforce and their families as well as of the local community and society at large.
Balochistan province is a promise for prospective national development and growth. With immense potential and limitless opportunities, there are threats associated with the preservation of the environment and nature in all and different forms. Balochistan believes in sustainable development that allows the present generations to fulfil their needs without compromising the ability of future generations to meet their needs.
With such intention, this Policy affirms the commitment towards ensuring sustainable development by putting in place actions that will soothe the environmental hazards caused or potentially caused by the overall development and economic activities, directly and indirectly, impacting any segments of the Environment.
As of this moment, there is no Policy that regulates the CSR regime of any industry and especially the industries that are leaving intense effects on the environment. CSR is managed on an informal basis that invites haphazard spending ruling together the critical base of Environmental Protection.
Few good men started helping the community to build up after the disaster of the flood last year in Balochistan.
They created an organization named #Team Balochistan# in which all are helping the less fortunate people in different areas of Balochistan. They are helping in Health  / Education /Food Rashans /Medical supplies/ Health Care Centers / Maternity homes for women / Malnutrition supplies for children / School rebuilding even in Making new homes Re designing Jails / Providing facilities to prisoners etc… So much work has been delivered as yet it is a Private venture.
A salute to all these men who help their fellow men. More ventures in skill development and the blue economy are on the way. May God give us more to help our fellow human beings. amen.