BY: Syed Mussarat Khalil
The first leap of El Classico sports Event to conduct El Classico Volley ball tournament in Saudi Arabia for the first time in the history of Saudi Arabia has become a milestone when the fixture release ceremony conducted on 20th May 2023 at the overcrowded auditorium of Casablanca Hotel in Jeddah.
El classico super cup 2023 volley ball tournament will be held in Green Field Indoor stadium at Ameer Abdullah Faisal Stadium on 25th, 26th on 27th of May 2023.
The six renowned teams; Al Ahli, Al Ithihad, Training Mat, Al Nors, Tiger Club and Arabco Riyadh will show their mettle for the first time. Two famous teams from India agreed to participate in this tournament.
As the curtain raiser, the fixture release was held at Casablanca hotel on 20th May23 pompously.
El Classico sports Event chairman Mr Hifsu Rahman Hassan managing Director Mr Sainuddin and Mr Saad Al Ayed Al Yahyawi declared that the winning team will be awarded prize money of SR 20000 and the runner up will get a prize money of SR 15000 in their press meet.
The team managers and captains of Al Ahli, Al Ithihad and AlNors
El classico sports event chairman Mr Hifsu Rahman Hassan addressed the ambitious gathering and told them that the tournament would be conducted to bring forth the spirit of sportsmanship among the people and spread the message that sports for love and friendship.
Media persons like Mohamed, Adil Bakhthir, and Abu Mohammed Khasi wished all the success for the tournament on this occasion and offered all their support.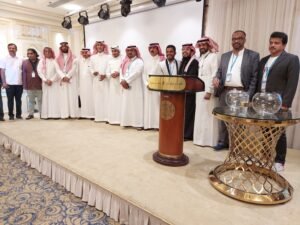 SIFF acting general secretary Ayyoob Master, Navodaya Patron Shibu Thiruvananthapuram,   Malayalam news representative Mayinkutty, Madhyamam representative Sadikali Thuvvur felicitated on this occasion and offered all support for the success of the event.
Ghasi Sadaka and Muhammad Rafi Beemapally anchored the programme of Fixture releasing.
Noushad Chathallooor, Naser Kozhithodi, Hiba, Hanan Hifsu, Fawaz, Muthu, Wahab, Ansar, Mansur Wayanad, Naufal, AJI- monitored the guests warmly.