BY: Mrs Javeria Asad
This year, Pakistan is celebrating its 76th Independence Day with traditional fervor and freedom spirit. On this auspicious occasion, Pakistan Overseas Community Saudi Arabia organized a beautiful and colorful event in Dammam on Friday 18 August 2023, which was attended by a large number of Pakistani community based in the Eastern Province and some special guests from Riyadh and Jeddah. also joined the event.
Ambassador of Pakistan Mr. Ahmad Farooq was the chief guest of this event. He was accompanied by other senior officials of the Pakistani embassy. The Ambassador of Pakistan said in his speech that the main objective of Independence Day is to convey the ideology of Pakistan to the new generation. We need to follow the rules and regulations of the kingdom to manage friendly relations.
The event started with exciting and motivating activities which included national songs, children's cultural performance, game shows and many other segments.
The event was hosted by RJ Fawad and Omair Shaikh in their own unique and vibrant style.
Elite Club Saudi Arabia participated as a supporting organization under the leadership of the club's founder, Javeria Asad with her active team members Madeeha Muzzammil, Sumaira Haroon, Farheen Hamid and Shafaq Imran. Stalls of decorative handmade products and delicious snacks have been set up by the club.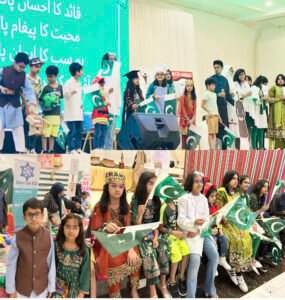 The kids of Elite Kids Club presented a thought-provoking segment titled 'Let's Build Pakistan Together' which highlighted the mutual cooperation of all Pakistanis living in or outside the country. They should work together to solve the current problems of the country for the economical, social, educational growth of Pakistan. The main performance was given by Faiz Ali Hasan, Amna Haroon, Farwa Haroon, Hiba Tariq, Eshaal Ahmed and other children who dressed in different costumes to highlight the message of the segment. This performance was highly appreciated by the audience.
Javeria Asad mentioned that in view of the current situation in Pakistan, we should give awareness to our kids about the problems and current affairs of Pakistan.
Faisal Ahsan, President of Pakistan Overseas Community, said in his address that as living abroad, we have to make collective efforts for the development of Pakistan. He thanked all the guests and supporting organizations for participating in the event.
At the end all the sponsors and supporting organizations were given certificates of appreciation by the Pakistani overseas community. The event was concluded by cutting the traditional cake in honor of Pakistan's 76th birthday. All in all, it was a beautiful and enjoyable event that brought together all the cultural colors of Pakistan under one roof in the kingdom and added to the joy of celebrating Independence.