By: AtharG TN Sports News Karachi Pakistan.
On the verge of the Indian, Ocean at Karachi which houses more than fifty universities. The Elite Sports Pakistan signs off its 100th University Sports Commercialization MoU by the grace and blessings of God. It seems to be a dream from a couple of years earlier.
It was a historical and unprecedented moment for the team ESP and UIT University Karachi to agree upon and sign it. M. Jamal Qureshi C.E.O Elite Sports Pakistan and Nisar Ali Associate Professor signed the ESP hundredth university sports commercialization MoU in the presence of ESP and university officials.
Syed Athar Abbas Director of Sports DHA Degree College was also present on the occasion to grace the ceremony with his company. It would be significant to report and recognise the humble, untiring dedicated and volunteering services of Athar with the ESP.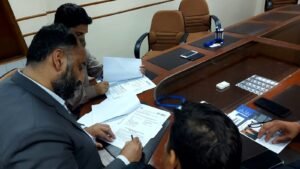 He has been rendering his public relations and marketing expertise for the promotion and development of University Sports commercialization in Sindh along with ESP. Mr Noor Murtaza national coordinator Inter-University Consortium for the Promotion of Social Sciences was instrumental in coordinating and liaisoning the parties to reach an agreement and ink this agreement for the betterment and development of University Sports in Pakistan.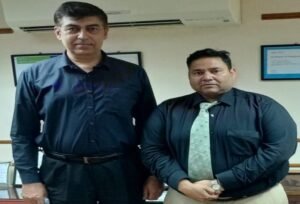 M. Jamal Qureshi thanked officials and extended his heartiest congratulations to Dr Johar Ali Vice Chancellor UITU-Karachi and other university and team ESP officials and wish best wishes to everyone on the occasion.