Defending champions Bhawalpur PD got off to a winning start by defeating Sargodha PD by 10 wickets thanks to Skipper Mohammad Nauman's brilliant half-century. Lahore PD defeated Sialkot PD and Peshawar PD defeated FATA PD. In these matches, Muhammad Nauman, Muhammad Shahbaz and Muhammad Adeel were declared Man of the Match.
MUHAMMAD NIZAM Karachi (Sports Reporter):
The defending champions Bahawalpur PD defeated their rivals Sargodha PD by10 wickets thanks to their captain Muhammad Nouman's brilliant unbeaten half-century of 59 and got off to a winning start in the National Physical Disability T20 Cricket Championship 2022. Under the management of the Pakistan Physical Disability Cricket Association and with the cooperation of the International Committee of the Red Cross, Shahid Afridi Foundation and Pakistan Cricket Board.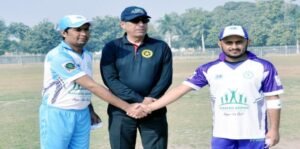 In the first match of the national championship in 5 cities of Pakistan, Dering Stadium Bhalpur, Sargodha. Scored 119 runs for 8 wickets while playing first. Zafar Hussain scored 27 runs and Waqar Amir scored 25 runs. Kashif Abbas and Muhammad Asif took two wickets each, In reply, Bahawalpur achieved the required 120 for no loss in 8.4 overs. Captain Muhammad Nauman scored 59 runs and Muhammad Shahzad scored 49 runs on behalf of the winning team. Muhammad Nauman, the best player of the last championship, won the man of the match award, continuing his outstanding performance.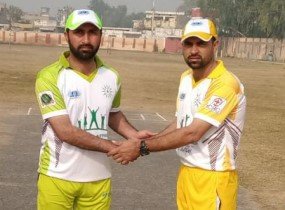 At G Park Cricket Ground Sialkot In the second match, Lahore PD also defeated Sialkot PD by 10 wickets. Sialkot batted first and scored 140 runs for 9 wickets in 20 overs. Luqman scored 31 runs and Abal Manan scored 23 runs. Shahryar bowled well and dismissed 5 players for 37 runs while Abdullah took 3 wickets for only 12 runs. In response, Lahore scored 145 runs in 10.4 balls without losing any wickets and won by 10 wickets. On behalf of the winning team, Muhammad Shehbaz scored an unbeaten 73 runs off 36 balls with 12 fours and 3 sixes, while Muhammad Yasir Ajmal Scored 49 runs not out in 36 balls with the help of 6 fours and 2 sixes. Muhammad Shahbaz was off the match.
Peshawar PD defeated Fata PD by 4 wickets in the match played at Khan Sports Stadium Peshawar. FATA PD scored 119 for the loss of 8 wickets in the allotted 20 overs of batting first. Saqib Khan scored 49 runs while Asad Khan scored 36 runs not out. Asif Khan and Asadullah took 2 wickets. In reply, Peshawar PD reached the target of 122 runs for 6 wickets. Muhammad Adeel took a good turn of 44 while Zahir Ahmed scored 26 runs. for FATA Wali Muhammad's grabbed 4 wickets and 29 runs while Min Khan's 2 wickets for only 5 runs could not be effective, Peshawar's Adeel Khan Man of the Match. The award was given.
Man of the Match Photo Caption. Bhawalpur. Chief guest Maqsood ul Hasan Regional Sports Officer Bhawalpur, Bhawalpur PD captain Muhammad Nauman giving man of the match award Regional Head Multan and Bhawalpur Jameel Kamran is also present.