BY: Babar Ali
Hashim Abbas, the renowned HR Consultant working with a leading IT company, has not only made a name for himself in the corporate world but has also made remarkable strides in the entertainment industry. From showcasing his vocal prowess in singing India's National Anthem, Hashim's talents know no bounds.
He has come with an Onam song that's picking up traction
In 2020, Hashim Abbas caught the attention of media outlets when he took on the lead role in the Malayalam film "Kondottipuram," directed by the esteemed filmmaker Majeed Marancherry. His remarkable performance earned him accolades and recognition, possibly making him the first Arab national to lead a Mollywood movie.
Beyond his acting endeavors, Hashim's musical talents also shine brightly. On January 26, 2021, India's Republic Day, he graced the nation by singing the country's National Anthem, "Jana Gana Mana," in a feature video produced by khajoor.net. The video garnered widespread admiration and further solidified his place in the hearts of his Indian admirers.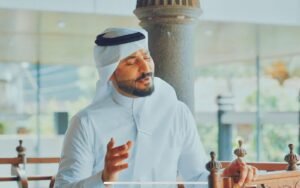 Keeping the patriotic spirit alive, on India's 76th Independence Day, celebrated on August 15, 2022, Hashim Abbas once again collaborated with khajoor.net to release "Sare Jahan Se Acha Hindustan Hamara." The music video received an overwhelming response, resonating with audiences across the nation. In a heartfelt caption accompanying the video on his YouTube channel, Hashim expressed his love for India, referring to it as his "second home."
But Hashim's talents extend far beyond the entertainment industry.His benevolent contributions have positively impacted the lives of many, earning him respect and admiration from both communities.
One remarkable aspect of Hashim Abbas's love for Indian culture is his passion for Malayalam songs. Often seen singing many classics, including those of the legendary Kalabhavan Mani, he showcases his musical skills during concerts and has shared the stage with various Indian and Middle Eastern celebrities. His dedication to promoting Indian art and culture has earned him a special place in the hearts of his fans and fellow artists.
Hashim's bond with India is evident through his frequent visits, with Kerala being his preferred destination. Spending around four to five months a year in the state, he has developed a deep connection with its culture and people, transcending geographical boundaries.
As Hashim Abbas continues to shine both in the corporate world as an HR Consultant and in the entertainment industry as a multi-talented artist, he remains an inspiring figure, bridging gaps between cultures and nations. His passion, philanthropy, and love for India have endeared him to countless admirers, and he continues to leave a positive impact wherever he goes.
In conclusion, Hashim Abbas stands as a true testament to the power of talent, dedication, and cross-cultural appreciation. As he embraces and celebrates his love for India, he serves as a beacon of unity and camaraderie, touching the hearts of people from different walks of life and fostering a sense of togetherness.
https://tnmn.tv/