By Syed Mussarat Khalil Special correspondence TN media News.
Madinah- Bihar Anjuman (BA) Madinah chapter organized best get-together at Isteraha on 27th January 2023.  With immense pleasure, we would like to extend our heartfelt thanks to all the attendees of the Bihar Anjuman get together.
The event would be considered best one in the history of Madinah with participation of over 119 people including families and children. A prominent community leader Engineer Muhammad Qamar Alam was the chief guest on this occasion. The program started with recitation of Tilawat-e-Quran by Mahfooz-ur-Rahman and Dars-e- Hadees by Doctor Jasim Uddin. In his keynote address Engineer. Qamar Alam appreciated the works and achievement of BA while explaining the success story. He urged people to launch more initiatives and more meeting to educate and train young students in a better environment.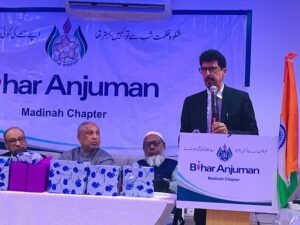 In his speech Mohammad Shahin member of Bihar Anjuman Madinah chapter, made a presentation on how the organization is working Bihar and Jharkhand to help needy "street Children attend school eradicate literacy among Muslim and offer them basic technical education to earn livelihood for their families " Doctor Shakil Anjum president of Karnataka association made a valuable remark that it was his expectation and vision what Bihar Anjuman doing to help "street Children attend school eradicate literacy among Muslim and offer them basic technical education to earn livelihood for their families "
Speaking on this occasion an Indian community leader Doctor Mujtaba explained "the Value of unity and importance of Education " In his speech Ashraf  advised Bihar Anjuman Madinah "if we can support education by adopting one child from Moazin and Imam family on priority basis would make huge difference " "it's better to light a candle than to curse darkness 'said Firoz Ahmed BA president Madinah, in his speech Firoz urged community members to come forward to educate our future generation .
The program was conducted by Vice president Shadab Ahmad and Nasir Zafar who has been associated with BA founder member jointly made this event grant successful. Several children and women side won the prizes in different competition and lucky draw. We are fortunate to bring some of the eminent people, speakers and delegates from our community to this event that will surely inspire and encourage our young generation. We thankfully acknowledge the time and dedication of BA team and active members in organizing the event successfully.
I would like to mention the main outcome of the event: Adopt Rahbar Coaching Centre by 2023. Announce scholarships for 2023 Diploma engineering and paramedical students with1o students. Bihar Anjuman Madinah Chapter will coordinate with all other organizations interested to take part in this important mission that will support our brothers.
A special thanks to our sponsors, core members, members and representatives from many organizations from Madinah Also thanks to ladies and children whose presence made it wonderful evening.
Again we thank all speakers, and the delegates for their enthusiastic participants in this event. BA Madinah team needs valuable suggestions and ideas to improve and to serve the community in better way so, all of you are welcome to share your ideas. We acknowledge the unwavering support received from our team and active members. Many thanks to all the people who have given their precious time in organizing the program successfully.