On 12 December 2022, Mr. Khalid Taimur Akram, ED, PRCCSF visited the Ministry of Foreign Affairs of Kazakhstan along with seven other experts from OIC states. He also had a detailed interactive session with His Excellency Roman Vassilenko, Deputy Foreign Minister of Kazakhstan at Astana.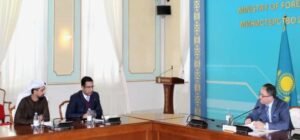 Excellency Roman Vassilenko briefed the delegation about the recent election process that was fair, transparent, and strictly in line with the country's law. He discussed the dynamic policies of President Tokayev and also highlighted the political modernization of Kazakhstan.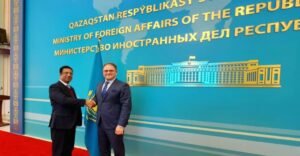 Constitutional amendments were also brought into the discussion. During the meeting, Mr. Khalid Taimur, ED, PRCCSF asked questions to His Excellency Vassilenko related to Kazakhstan's latest elections and constitutional reforms and the OIC conference of food security held at Astana.