By Syed Mussarat Khalil Special Correspondent, TN Media News international.
Consul General (CG) of Pakistan, Khalid Majid, held an interaction with ethnic media representatives to discuss activities and achievements of the Consulate during the past year and its future plans.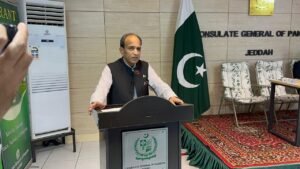 According to the press statement of Syed Hamza Saleem Gilani Press Consular at Consulate General of Pakistan Jeddah Kingdom of Saudi Arabia (KSA), the meeting marked a revival of quarterly media interactions which were temporarily put on hold due to the outbreak of Coronavirus pandemic. Relevant Officers of the consulate had highlighted the various initiatives that have been taken by the Consulate General to facilitate Pakistani expatriates.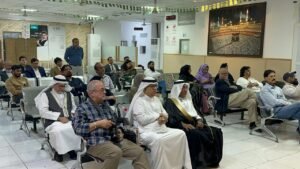 This included online assistance with visa applications, issuance of emergency travel documents, repatriation of stranded citizens, and other consular services being extended both at Jeddah and other major cities of the Western region.
This session gave the audience an in-depth overview of the numerous services the Consulate was able to provide. The event ended with a question and answer session, during which Consul General and other Consulate officers responded to media queries.